BINGO & LOBO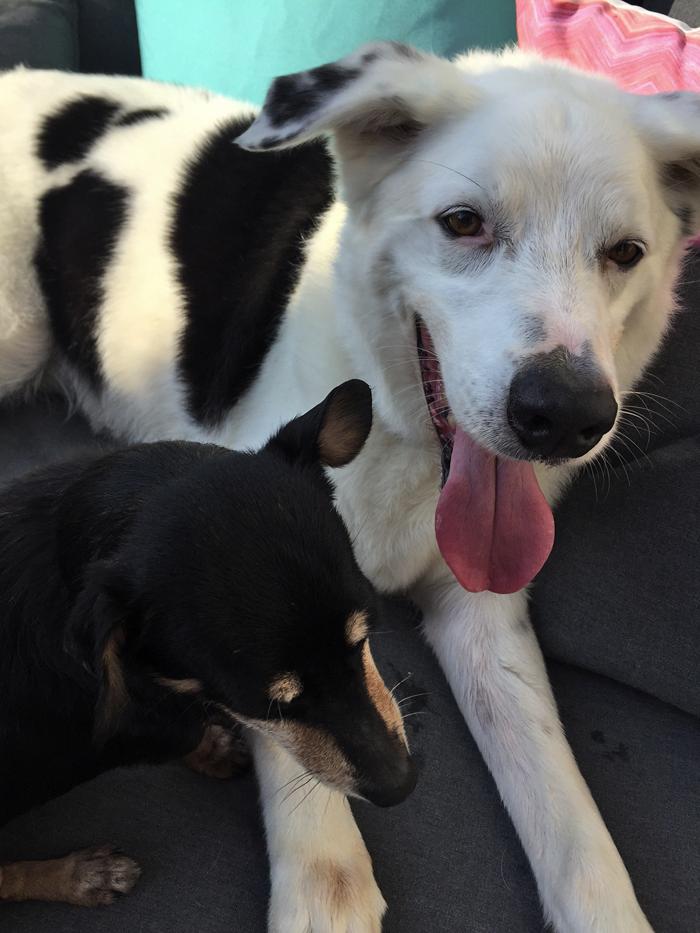 Please Note: These dogs are courtesy listings and are not part of BCIN's program. If you are interested in Bingo and/or Lobo, please contact Ilana at (323) 434-1820 or by e mail ilana_sparrow@hotmail.com. BCIN provides this service to help owners who must re-home their dog. Please be advised that BCIN has not evaluated nor tested the temperament of any of the dogs that are courtesy listed on our website.

Meet Bingo and Lobo. My family and I met Bingo and Lobo at the Kauai Humane Society on a recent vacation to the island. The staffers there begged us to take these sweet boys home, as shelter life was causing them to shut down and good homes for these dogs are limited on Kauai, so they felt the dogs would have a better chance of finding a great forever home in LA. The dogs came into the shelter as an owner surrender--an elderly man with serious health and financial issues could no longer care for them and couldn't find a friend to take them. He was crying when he left them. They were obviously well-loved, well cared for dogs.

We flew them to LA and have been fostering them for several weeks now. We have them figured out! They have integrated REALLY well with our existing dog pack, and we would keep them if we could but we already have 3 dogs, 2 cats and a horse. Here is a quick description of each dog. They DO NOT need to be placed together, although that would be great. However, Bingo especially would need to be placed in a home with another dog. We can tell he wouldn't make a good only dog as he bonds very hard with his people and wouldn't like being left alone. Leaving him alone with another dog, though, is not a problem. Both dogs have been evaluated by our vet and our trainer and are in great shape mentally and physically. We had them get spa days and they did fine with the groomers. They are UTD on all shots.

Bingo is a 6 year old Border Collie-Cattle Dog mix. He is extremely smart, active and agile. He is what you would call a velcro dog, and wants to be with his people. He also wants to please and learns super-fast. He is house-trained, knows his basic obedience, already knows a few tricks that I've taught him, rides well in the car, is friendly with EVERYONE and with all other dogs. HE LOVES CHILDREN!!! Would make an amazing family dog. He is not so great with our cats, but may be OK with a dog-savvy confident cat. He seems fine to just ignore them most of the time, but if they get aggressive, he will react. On the other hand, he is EXCELLENT with horses, goats, sheep, donkeys, llamas and mildly interested in chasing pot-bellied pigs, but not aggressive. That makes sense because Kauai is full of wild pigs. He has been tested with kids of all ages and brought out to parks and soccer games and is amazing. He does want to play soccer, though! He has gorgeous markings and gets tons of compliments on his looks and demeanor.

Lobo is his 12 year old chihuahua-min pin sidekick. They were surrendered together but like I said, not a bonded pair, just good friends. Lobo is the most zen, chillest chi mix you ever met. He is a little buddha! He loves all people, kids, animals etc. I think I can train him to ride a horse with me, he is so laid back. He is not yappy. He has a lot of energy and can play with big dogs (we think he thinks he is a big dog!) but his primary goal in life is to be a lap dog and/or be carried around. Happy to let kids carry him and hug him. He is super easy to have and everyone that meets him, loves him, including non-dog people.

Anyone interested can text or call me at (323) 434-1820 or email at ilana_sparrow@hotmail.com. We request that you fill out the BCIN application before adopting. Happy to arrange a meet and greet anytime! The dogs are located in Studio City.