LUCIE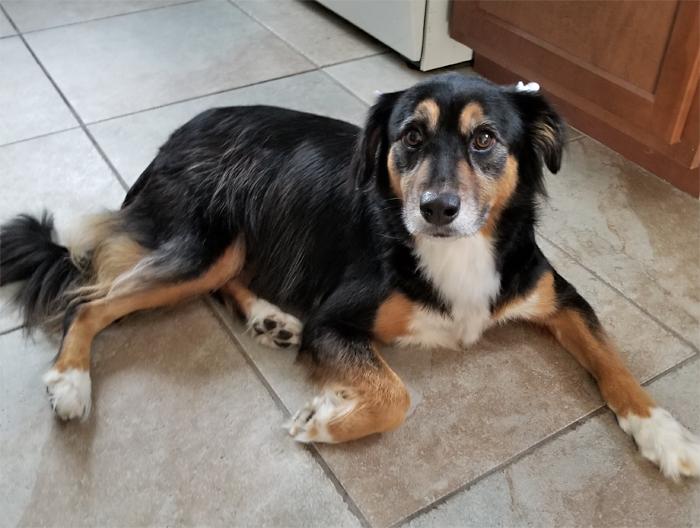 Please Note: This dog is a courtesy listing and is not part of BCIN's program. If you are interested in Lucie, please contact Jessy by e mail at wilson.jessy85@yahoo.com. BCIN provides this service to help owners who must re-home their dog. Please be advised that BCIN has not evaluated nor tested the temperament of any of the dogs that are courtesy listed on our website.

Lucie is an 80%+ border collie with the rest being saluki and collie. DNA results of this determination will be provided. She is estimated to be 5 years this January (2018). Currently her family includes an infant and 10 yr old child. She does mostly OK with the kids, but she has growled at the baby several times lately. It is important that she is not placed in a home with children younger than teenagers. She is well behaved in the home but can bark at passersby. She does not jump on furniture and relieves herself outside only.

We adopted her over a year ago from a couple who had divorced and could no longer keep her. She was born in Alaska and grew up on a ranch. Some unforseen health issues in the family have left us no longer able to provide as much care and attention as she needs. We understand we are no longer the best home for her.

She is not 100% leash trained but pretty close. We continue to work on her staying right at our side. Further training by new owner may be desirable.

She is obedience trained to sit, lay down, stay, leave it, take it, and come touch. She can be stubborn so if you don't keep up with the command drills, like with any dog, she will be less likely to follow your commands. We will provide a thorough description about her training commands upon or before adoption.

In my home she took to my husband most. She is friendly to people of any age, male or female. She tends to be over friendly and sometimes jumps on guests entering the home. Again, keep up with her training drills and ask her to sit and stay when guest enter, there shouldn't be an issue.

She is ok with other dogs. She knows when to be gentle with smaller dogs. We haven't been completely successful in training her to bring a ball back. She can be pretty possessive of balls and needs to be monitored because she has been known to become aggressive. Further command training will continue to help her to improve.

This breed needs lots of mental stimulation. Brain teaser treat dispensing toys will be included. This breed also needs lots of exercise. An acceptable home will be with someone who can walk her every day. If you visit hiking trails or you are a runner this is even better.

You must be committed to spending time on command drills and exercise!!! She can be very stubborn and even display aggression when she does not receive enough attention or exercise. As mentioned before, keep up with training drills and exercise and she will be very sweet and amazingly behaved. If she is under stimulated and under exercised she has been known to become destructive.

We ask for a $200 adoption fee. The following items will be included:



• 2 collars
• 1 collar tag with name and orange county license number
• 3 leashes of different types
• 2 harnesses of different types
• Dog waste bag dispenser
• Many rolls of dog waste bags
• 2 bottles of Shampoo and 2 bottles of conditioner of different types
• 2 hair brushes and comb gloves
• 1 indoor bed and 1 outdoor pillow bed including 2 blankets
• Tug toys and ball launcher
• Brain teaser treat toys
• Any and all of her treats and food that we have at the time of adoption
• 4 bowls. We keep 2 inside and 2 outside

Available documents:

• Spay certificate
• Breed DNA results
• Orange county license renewed in December 2017
• All vaccinations renewed in December 2017. paperwork from past visits also.
• Beginning obedience training verification

If you are interested in Lucie, please contact Jessy by email at wilson.jessy85@yahoo.com.