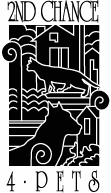 2nd Chance 4 Pets

IF YOU FIND IT HARD TO THINK ABOUT LIFE WITHOUT YOUR PET, IMAGINE YOUR PETíS LIFE WITHOUT YOU.

Thousands of companion animals are euthanized in U.S. animal shelters each year simply because their human caregivers died or became ill and made no arrangements for the continuous care of their pets. What will happen to your pets if they outlive you?

Ensure lifetime care for your pets. Click to learn more and download your free Pet Care Workbook.