CAJU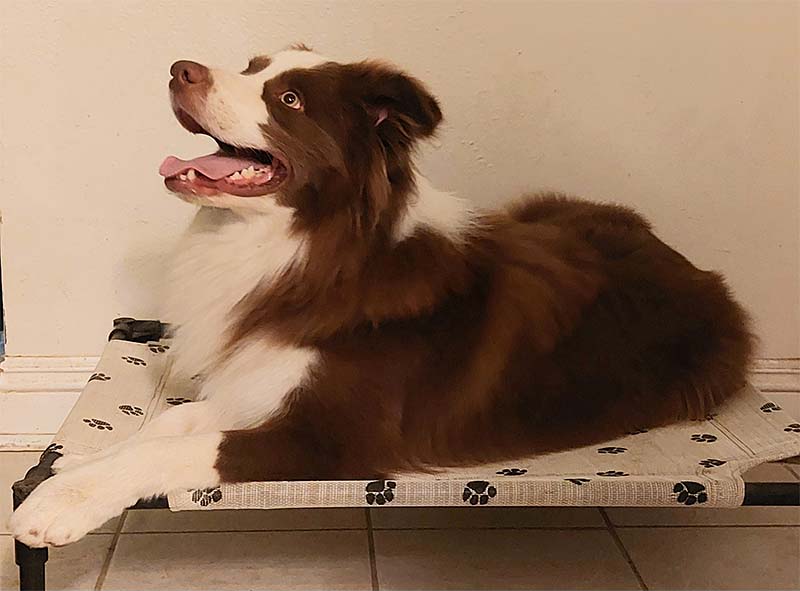 Meet Caju. Caju is a purebred rough coated Red & White male Border Collie, with the dreamiest blue eyes. His Date of Birth is 7/11/2021. Caju means Cashew in Portuguese, and he was bred and born in Brazil. Caju is an owner surrender to BCIN, and he was very pampered and well loved in his previous home.

The best description for Caju is that he is gentle, loyal, loveable, and always playful. He is good with dogs of any size, but he does have a pushy way about him. No aggression towards people or other dogs has been noted in his behavior, nor does he want to be in trouble of any kind.

Caju's attributes are:
Well socialized
House trained with nice manners
House broken
Crate trained
Soft on a leash, Walks nicely on leash
Will chew Tupperware containers if left unattended
Rides well in a car
Very smart, quick learner, and is willing to learn new things
Knows basic obedience
Loves to fetch and play
Can jump over a 4' fence or barrier, so a fence of 6' of higher is a must
Likes to be brushed
Well behaved at the groomer
Caju is a typical BC in that he's smart, athletic, and loyal. He wants to forge a bond and be partnered with his person. The recommended home environment and lifestyle for Caju is one where his person is home part time and will continue to engage him mentally so that he does not get bored. Although Caju is biddable and sweet natured, he has shown the aptitude and the potential that he can go much further than what has been expected of him so far.

If you are interested in meeting our dogs, please fill out an adoption application. We require a pre-approved application to be on file before any meet and greets are scheduled. Our dogs have been sterilized, microchipped, and are up to date on their vaccinations. The electronic application can be found on our website at www.bordercolliesinneed.org/border_collie_rescue_and_adoptions/adoption_application.html.