NOVA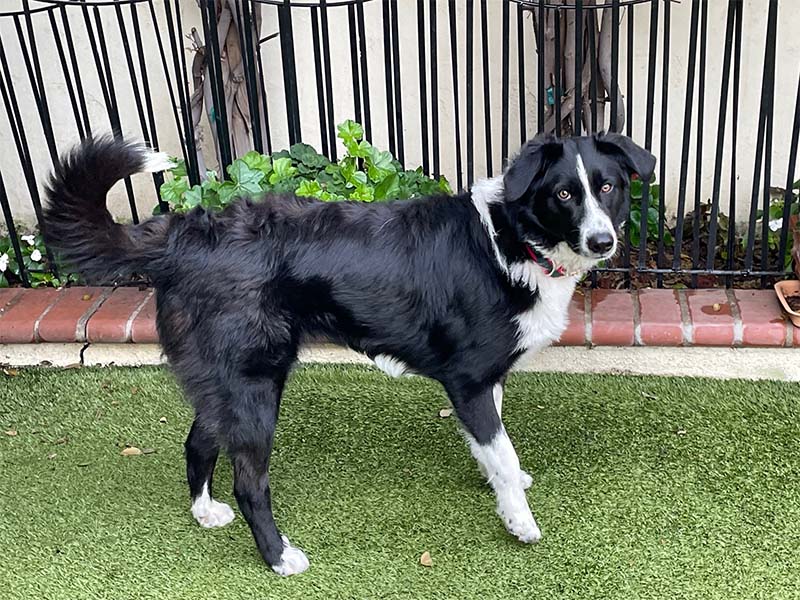 Meet Nova. Nova is a female about 1 year old. Nova is a bigger girl, so she could be BC out of AKC lines, BC mixed with Aussie (Baussie), or a McNab Border Collie. Nova came to BCIN as an owner surrender.

Nova has star quality potential, but is still a bit of a diamond in the rough. Nova has settled into her foster home with flying colors. She was a bit nervous and anxious at first, and was unsure about her BC foster siblings. What a difference a week has made. She craves human interaction, and loves playing with her new K9 friends. Nova is a submissive female who still lacks confidence. However, this smart girl is biddable, and wants nothing more than to please her person. Under the right tutlege, her confidence will bloom into a well adjusted mature adult canine. She will require a herding breed savvy owner to provide her stability with clear, concise, and consistent direction and the commitment to helping her realize her full potential.

It took Nova a couple of days to come into the home, preferring to stay outside to size up her new surroundings. Once she decided to come inside, she does have good house manners and is housebroken. She sleeps in a dog bed in the bedroom. She is quite oral, and needs some proper chew toys. If you don't give her something to occupy her oral fixation, she will seek out your shoes.

Nova would be best placed in a home with a dog that is a bit older than she. She seems to draw her confidence from other dogs and looks to them for guidance. She really likes human attention and responds well to praise. She knows a few obedience commands, but additional training is a must, which will include more leash training. She is still nervous riding in a car, so crating her would be best. Nova is quite active, however, she does has appropriate energy for her age. A home without small children is a must, as her exhuerance would knock over most kids.

If you are interested in meeting Heidi, please fill out an adoption application. We require a pre-approved application to be on file before any meet and greets are scheduled. Our dogs have been sterilized, microchipped, and are up to date on their vaccinations. The electronic application can be found on our website at www.bordercolliesinneed.org/border_collie_rescue_and_adoptions/adoption_application.html.