PAT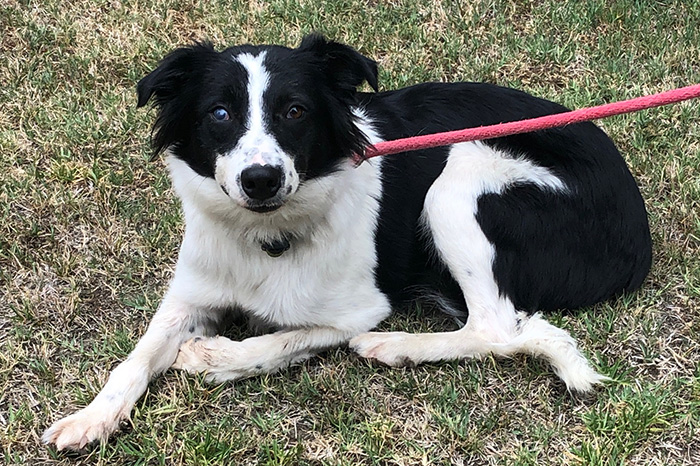 Meet Pat. Pat is a female 2 year old traditionally marked black and white semi rough coated Border Collie. She weighs about 35 lbs. and is blind in one eye. Pat has a previous injury to her back leg that never healed properly. She has been vet checked and given a clean bill of health. The vet recommended joint supplements that can be purchased on line. This injury does not slow Pat down, however, due to its instability, she should never be allowed to do canine sports and be allowed to go at her own pace. Casual walking and running are fine. Pat came into our rescue program with her sibling Ash. They will be adopted separately, due to sibling posturing that has already started with one another.

What a cuddle bug Pat is and would love to snuggle up and take a nap with you. She also thinks she is a lap dog. Pat is a fast learner and is eager to please. She is quite the sniffer, so she could have potential to do scent work. Pat will elf entertain with her toys, and particularly loves her chew toys. Pat knows how to walk on a leash, knows basic obedience commands, and is housebroken. Pat is well socialized with people and other dogs. However, she requests a home without cats and children under 10 years of age.

If you are interested in meeting Pat, please fill out an adoption application. We require a pre-approved application to be on file before any meet and greets are scheduled. Our dogs have been sterilized, microchipped, and are up to date on their vaccinations. The electronic application can be found on our website at www.bordercolliesinneed.org/border_collie_rescue_and_adoptions/adoption_application.html.