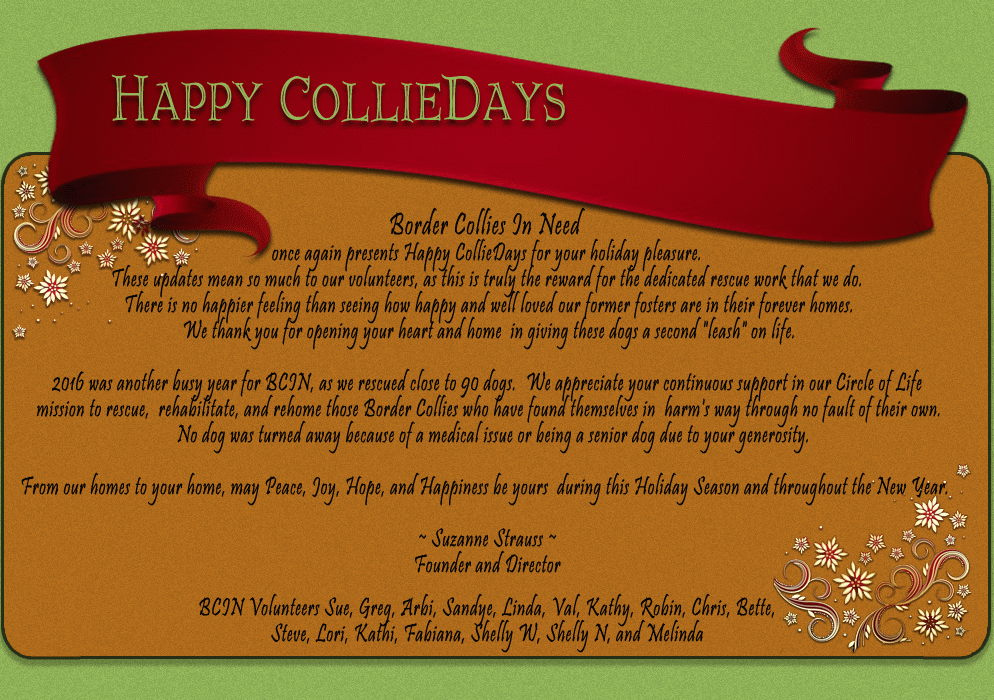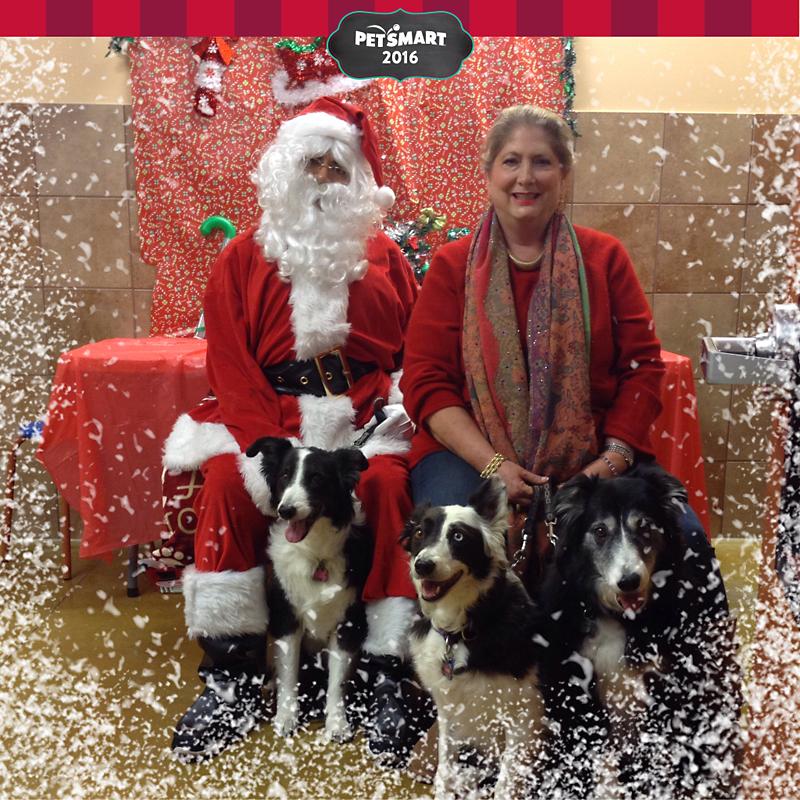 HOPE, SADIE, AND MANNY

"Yappy Howlidays and a Pawsitively Awesome New Year,
From Santa's little yelpers, Sadie, Hope, and Manny ~

Suzanne Strauss,
BCIN Founder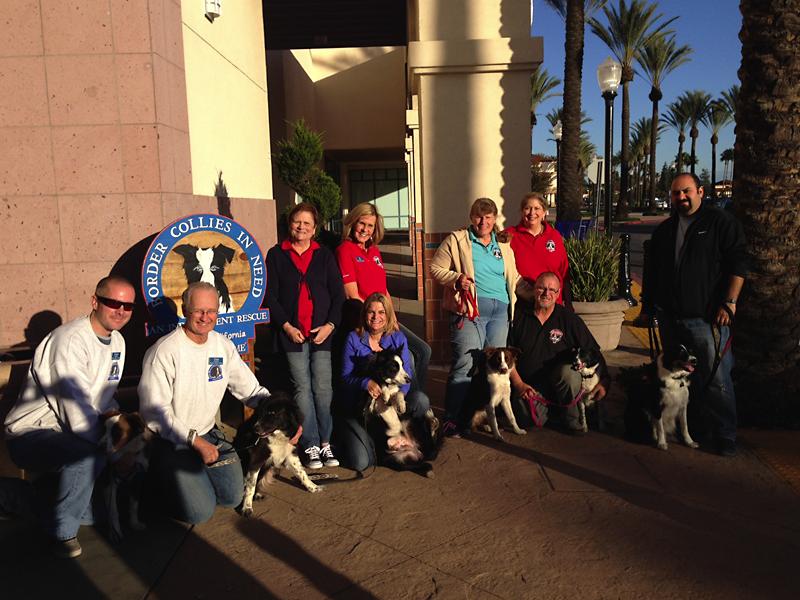 BCIN VOLUNTEERS

Season's Greetings and Cheers for 2017 from the very merry BCIN Volunteers and the fabulous BCIN Foster Dogs.

(L-R): Greg MacDonald, Steve Jameson, Bette Jameson, Kathy Rubenzer (seated), Sue Hooper,
Robin Van Geest. Chris Van Geest (seated), Suzanne Strauss, and A Barkhordarian.



GRACIE, ROCKY & TINY
formerly known as Smiley (Gracie) and Rocky

"Wishing a very special Merry Christmas to all the BCIN Border Collies who are now safe and home from the Hooper 'pack'. We are especially grateful to all the adopters for giving you a life full of love and joy as you so deserve. Love and Christmas Belly Rubs to you all!"

~ Sue & Larry Hooper
Rocky, Gracie, Tasha and Santa Tiny, the special Border Collie Wannabe ~"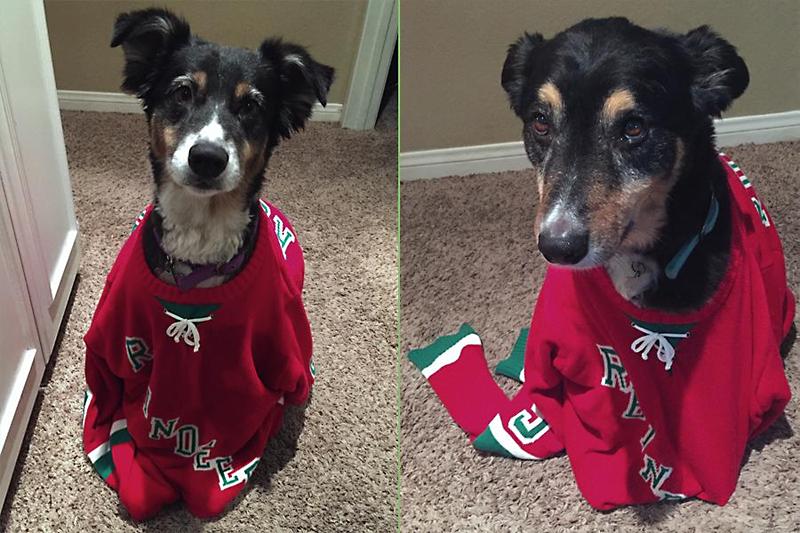 OSO & LADIE
formerly known as Oso and Ladie

Ugly Christmas sweater of BCIN Volunteer Greg MacDonald Dog's Oso (right) and Ladie (left)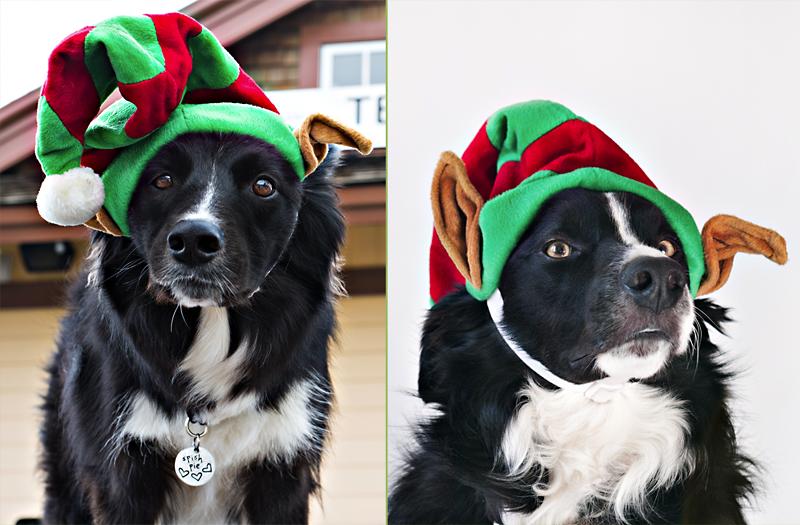 SPLASH & RINGO
formerly known as Ringo

At the Rainbow Bridge, "I really miss my girl, Splash. Sharing a little Christmas cuteness.
She was sure cute...didn't care to cuddle, but cute nonetheless. =)"

On the other hand, Ringo, also at the Bridge, didn't feel quite the same about elf hats.
I miss you every day."

~ Shelly Williams ~
BCIN Volunteer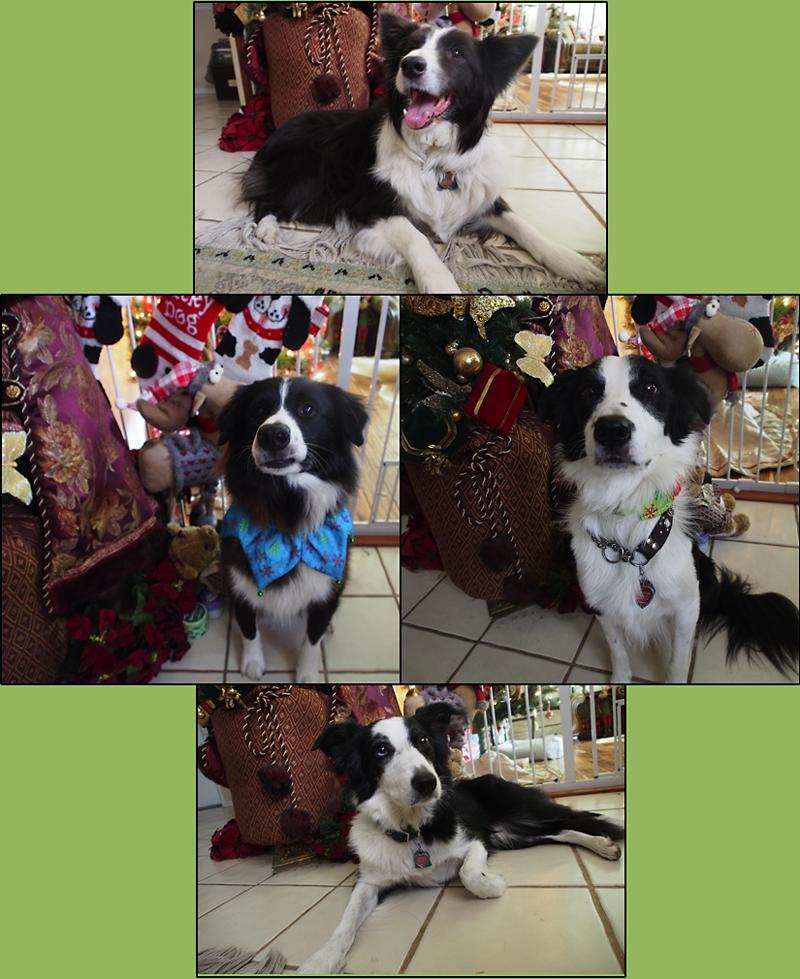 KEIRA
JIMMY & BENTLEY
KAYLA
Keira was formerly known as Olive
Jimmy is a BCIN foster, available for adoption.
Bentley was formerly known as Panda
Kayla was formerly known as Misty

"Happy Holidays (Merry Christmas) everyone."
~ BCIN Volunteers Steve and Bette Jameson ~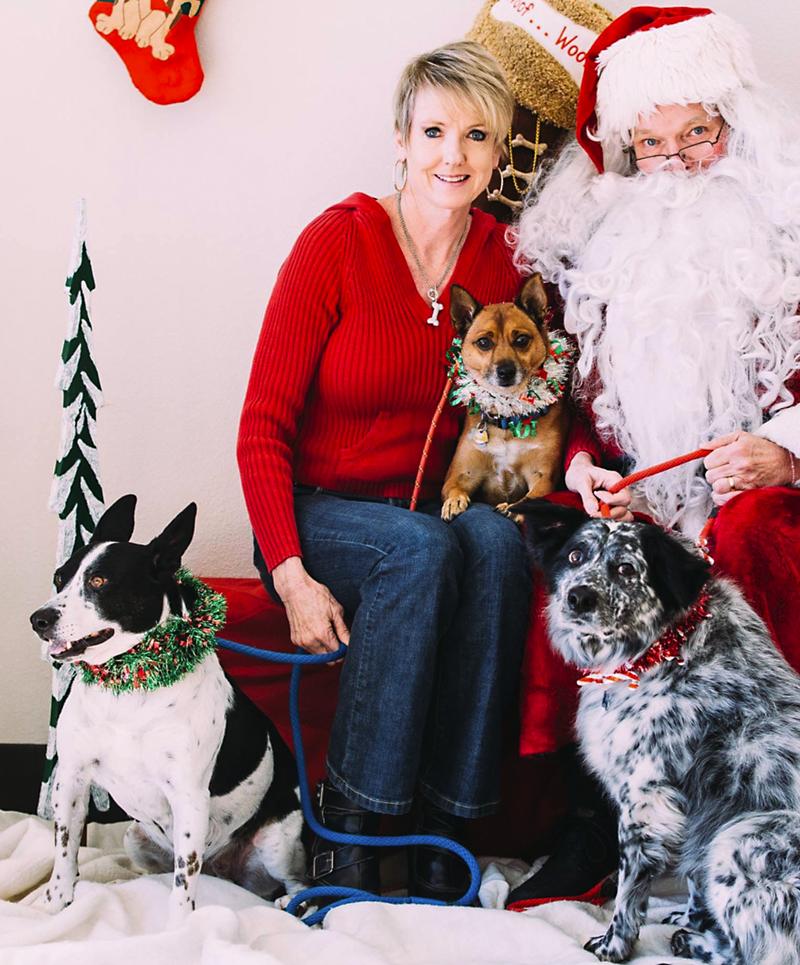 QUEENIE, JOEY and BANDIT
formerly known as Bandit

"Merry Christmas,"
BCIN Volunteer Shelly Nichols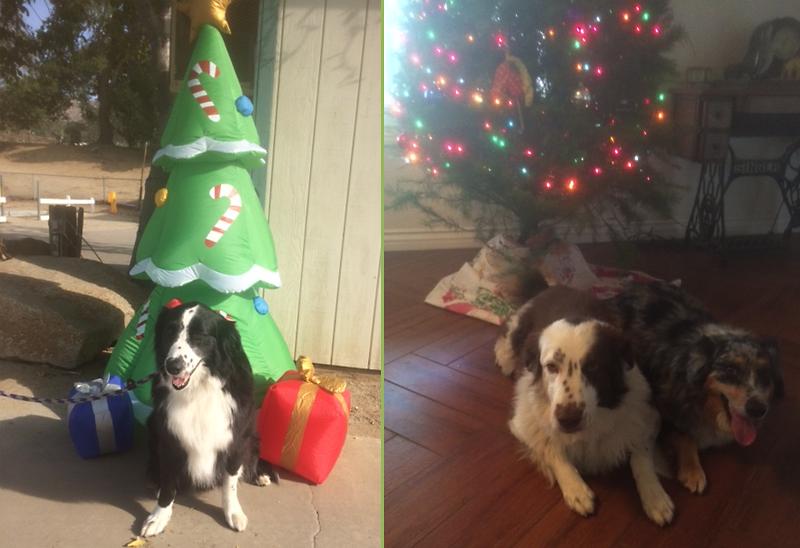 TAZ, SUNNY & WILLOW

"Taz, Sunny, and Willow. My foster dogs are better trained than my own! lol"

~ Robin Van Geest ~
BCIN Volunteer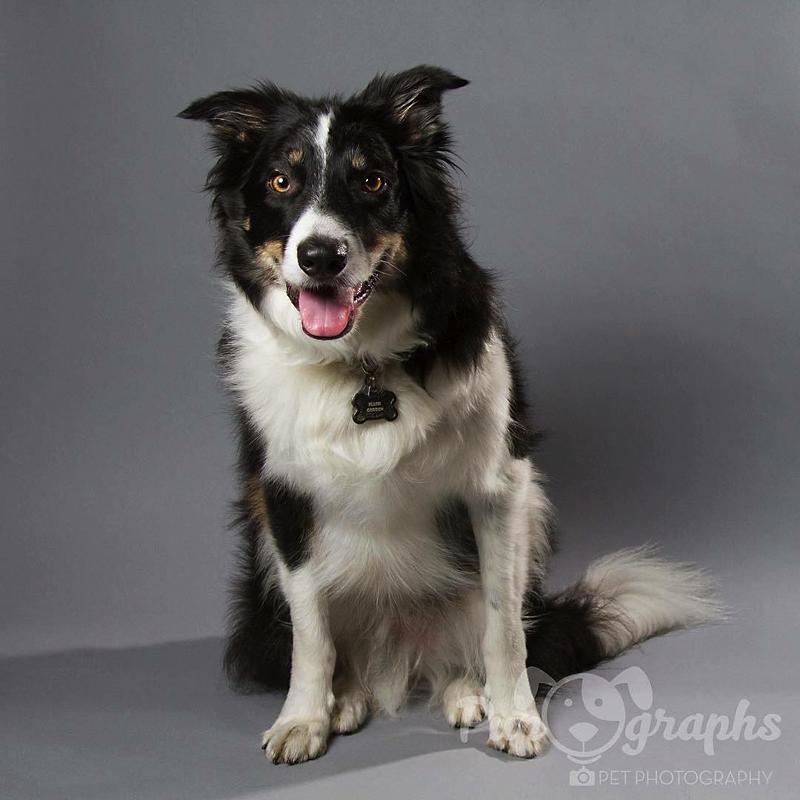 FLASH GORDON

~ BCIN Volunteer ArbiBarkhordarian's dog, Flash Gordon. ~



TOK'A, BRANDEE & OAKLEY

Tok'a (our Dogs on Deployment foster) with Brandee enjoying the holidays!
Oakley, BCIN Foster, is official with his own stocking and the Border B(u)nch.

~ Sandye King ~
BCIN Volunteer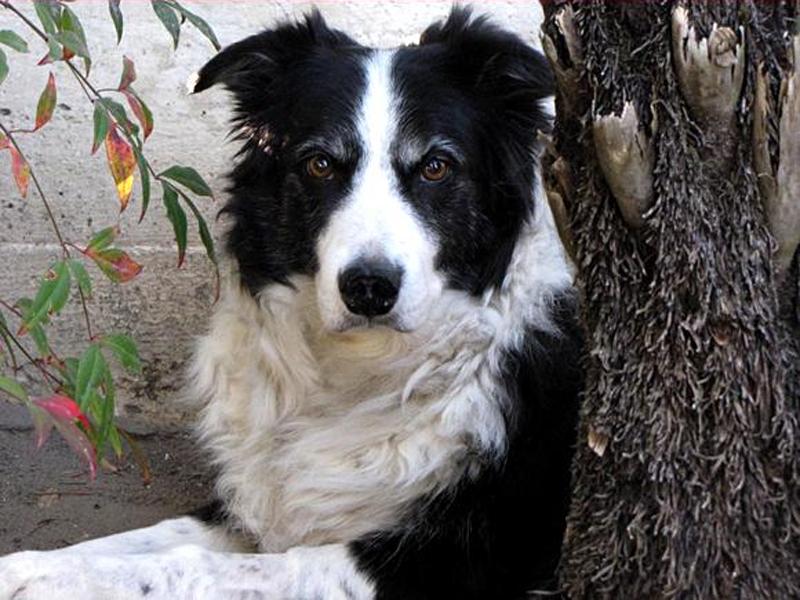 LYLA

Jolly CollieDays from your BCIN webmaster and Lyla!

~ Melinda Young ~
BCIN Volunteer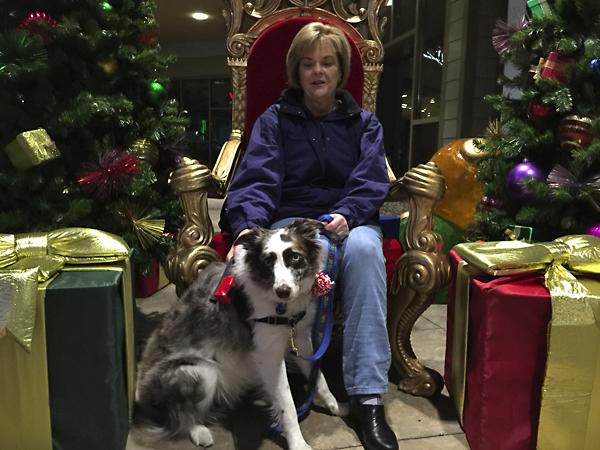 GUNNAR
formerly known as Gunner

"We adopted Gunnar in May 2016 – he was Gunner on the web-site. It was love at first sight.
Gunnar loves to supervise all activities, especially those involving the family cats.
Gunnar is learning to play frisbee and loves to jump high in the air,
but his favorite activity is working for treats!"

Thanks,
~ Lori & Russ
BCIN Volunteer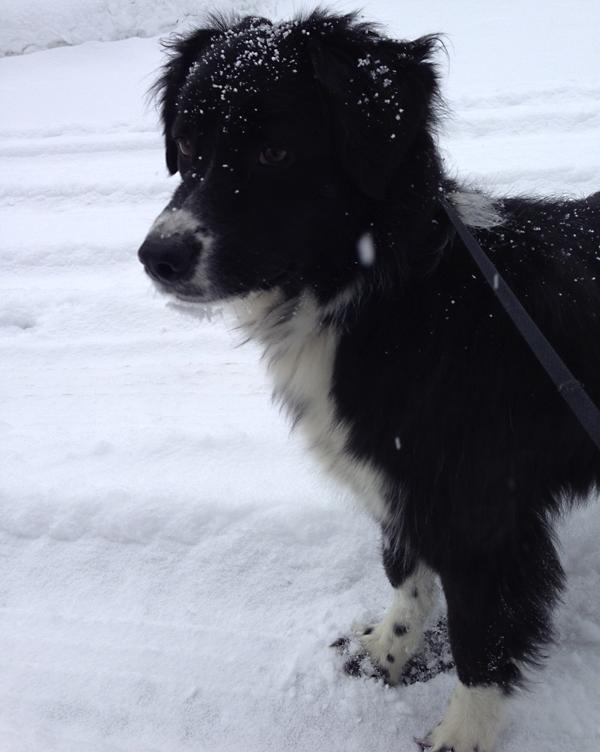 WHISKEY
formerly known as Hobb

"Our baby boy Whiskey (formerly Hobb) is about to turn 4 and is doing really well! We adopted him in August 2015.
He loves getting away to the mountains in the winter, and hiking above LA whenever he can.

Hope 2017 is another great year for you guys! Just sent a donation this morning…
hoping to have it matched by the Wonderful Foundation soon.
Thank you for the work you do."

~ AJ and Richard Scheitler ~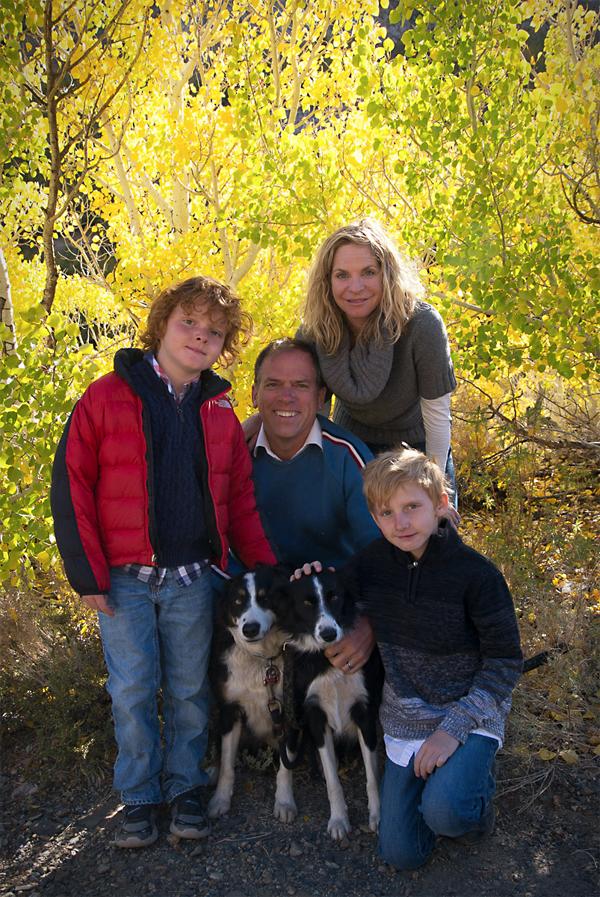 BODIE
formerly known as Brodie

"Here's a Pic of our family with Bodie whom we adopted 3-4 years ago from you. He has since acquired
a sister named STAR (a small BC Stray that we found in Oregon on a road trip). Both dogs are in
Doggie Paradise. We live in Mammoth and they have an active and wonderful life.

Thanks for the work that you do. "

~ Tania Painter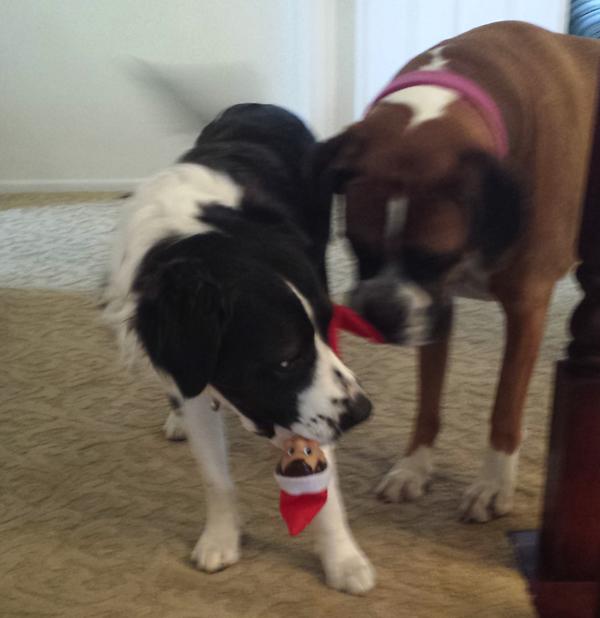 COLLETTE
formerly known as Luna

"This is Collette. She's being a little naughty with Mozart the elf.
Yikes our boxer telling her to put him back. :) We have had Collette for almost 3 years now.
She's still afraid of people. She loves our family and my daughter's best friend but that's
about it for people. She is super friendly with all dogs and does better with people if they
are with a dog. She's very spunky,exuberant and loves to go for walks and runs. She gets
plenty of opportunity to do that, between all of us in the family who run and walk. "

~ Susanna Graham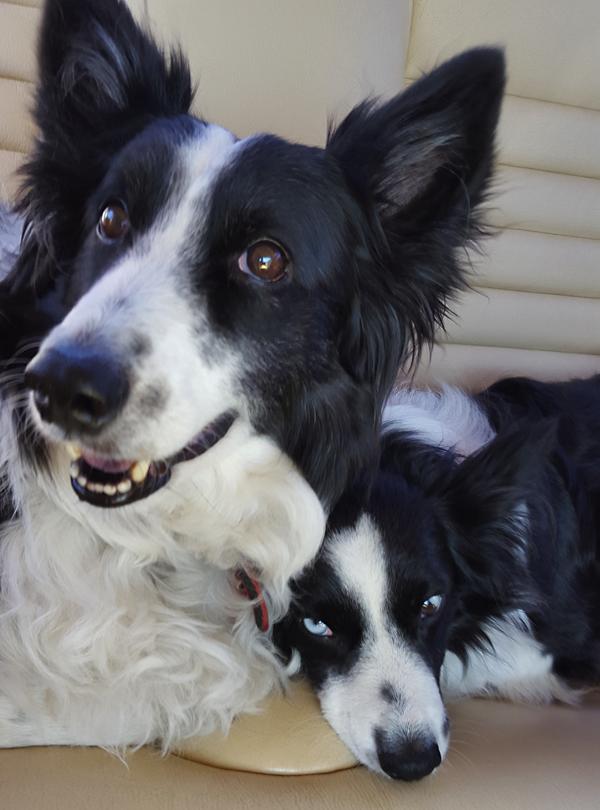 Rio & Rico
formerly known as Rio and Rico

"Happy Holidays from Rio and Rico Mayuga! "

~ Mark Mayuga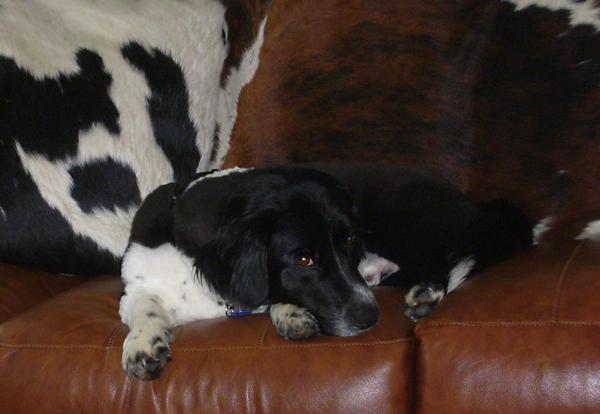 BILLY

"Billy was adopted in March of 2014 from his foster home, Val, in Alpine. He's doing well
and is finally become totally secure in his new surroundings. He looks a little different
as we've kept his hair cut short for comfort."

Diane and Bill Huber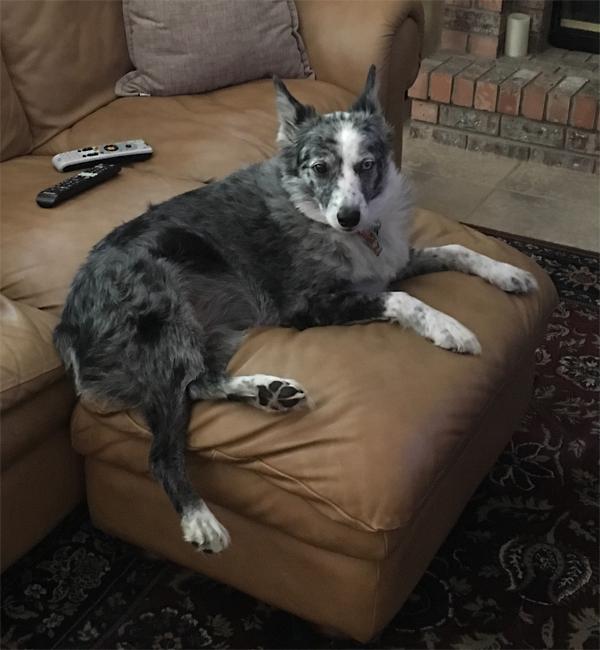 CASEY
formerly known as Casey

"We adopted Casey from BCIN in July 2008.
She's still doing great and is a much-loved member of our family!!"

~ Richard and Mary C.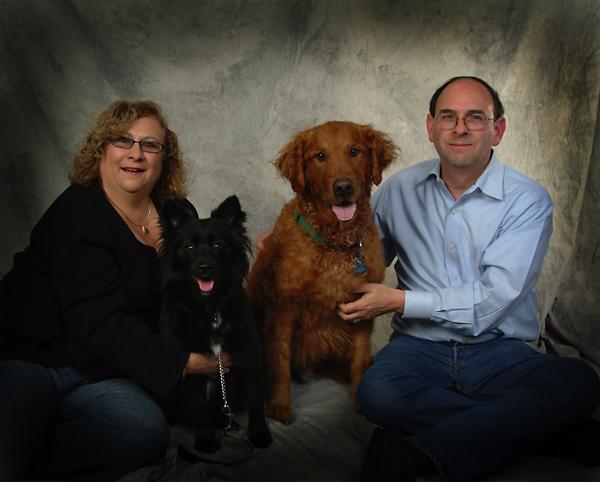 ZOE
formerly known as Tinker

We adopted Zoe from Border Collies in need.
Her name was Tinker at the time of the adoption,
but we changed it to Zoe and we love her.

Happy Holidays
Stu and Jan Simon



JANE
formerly known as Lita

"Here is Jane (Lita) with her three adopted sisters. She is happy and healthy
and loves going on long hikes in the desert! She is about 6 years old now (we think).

Have a great Christmas!
Drew Evans"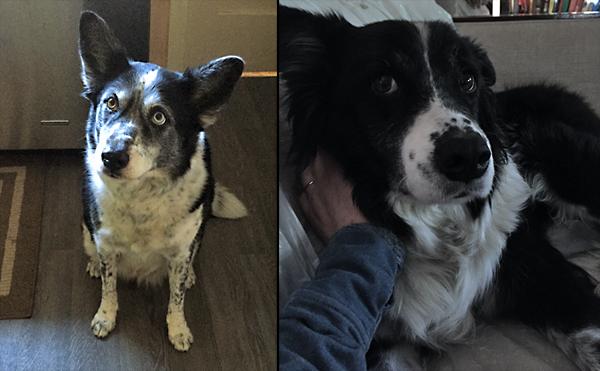 Tessy & Moss
formerly known as Moss and Gin

"Good morning Suzanne. Hope all is well. Here are two beautiful children.
They make us so happy every day. We are grateful to you and your partners!!!

Happy holidays!!"
~ From Jens and Alla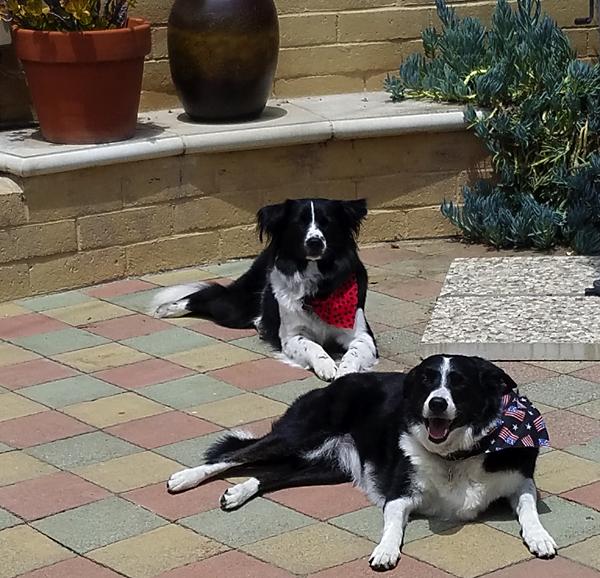 KENNA
formerly known as McKenna

"Kenna, (officially McKenna), came from BCIN to us in late 2010. Bella (left) was given up by apartment dwellers 2 yrs ago."

~ Clifton P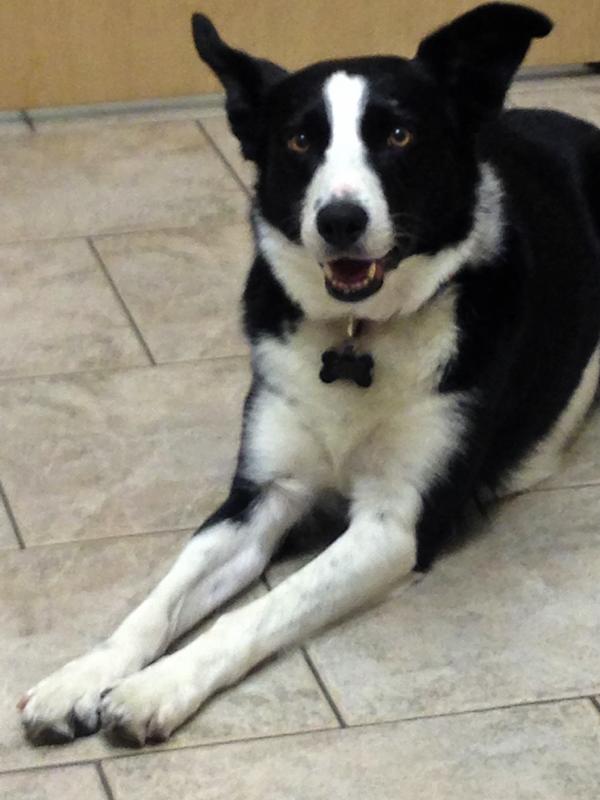 LADY
formerly known as Ladybug

"Attached is Lady – formerly known as Ladybug. She has been with our family for 3 years (I believe) and
is as happy as can be with her pack that includes Woola and Cash. Lady came to us a skinny,
frightened, shy dog and is now a healthy weight, confident and a real lover.

Thank you BCIN for contributing to our family."

~ Kim Miller Dunn ~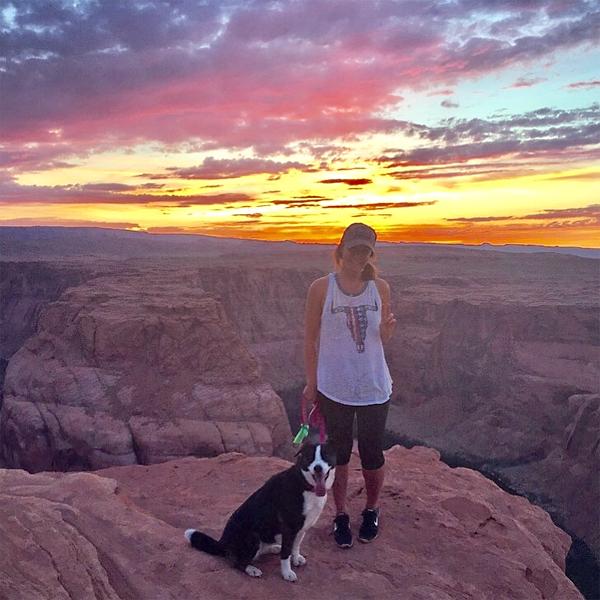 NYAH
formerly known as Charm
"Here are a few pics of miss Nyah who we love so much!"

Happy Holiday,
~ Cecile & Tom ~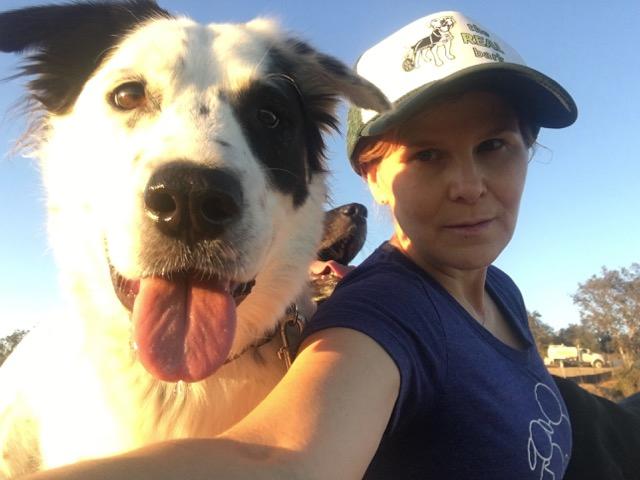 ROSIE
formerly known as Amy

"Here is Rosie (formerly Amy), adopted in 2013. Rosie is a true character! She is a wild child who loves her daily hikes,
romping with her canine siblings, eating any morsel of food she can find on the floor and counter, and overly greeting
guests that come over to our house. She is a joy and a pain and we love her deeply!"

~ Kerry ~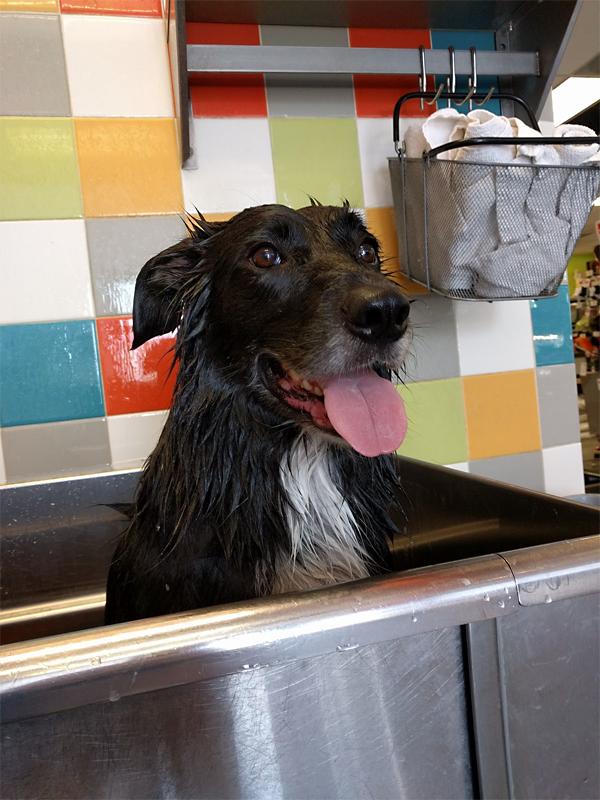 HUNTER
formerly known as Hunter

"Here are some pics of Hunter from the past few months!"

Thanks and Happy Holidays!
- Sean and Jessica Slayback ~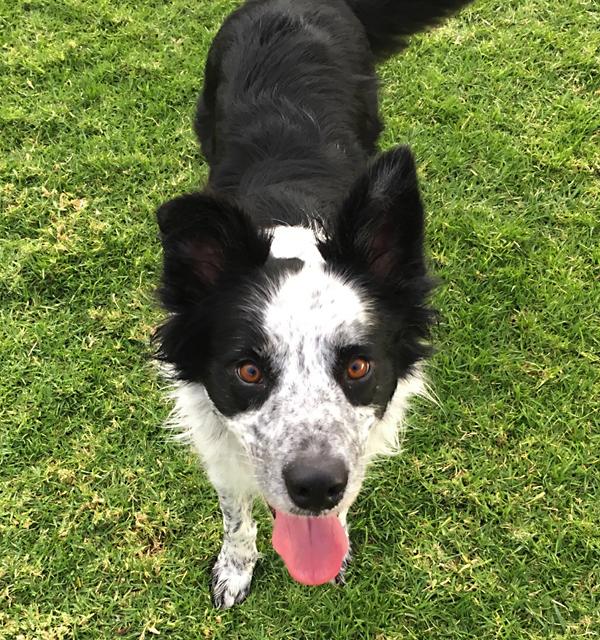 BODHI
formerly known as Bowie

"Here's Bodhi...Good boy!"

~ Stephen Conlan ~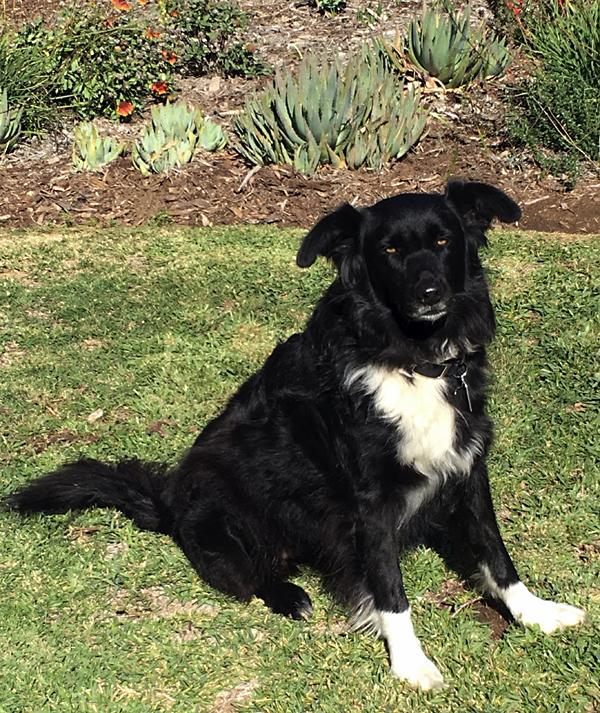 KALI
formerly known as Tashia

"For the BCIN greeting card, here is a recent picture of Kali (formerly Tashia),
who has been with us for nearly four healthy and happy years."

~ Jon and Marcia Miller ~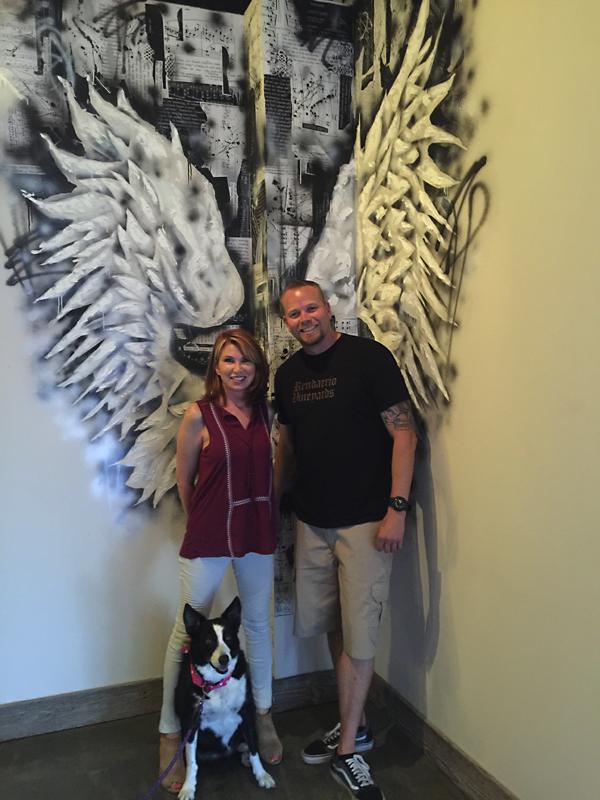 POKEY
formerly known as Pokey

"Now 10 years old (approx) we got Pokey from you about 5-1/2 years ago (her name was Pokey at time of rescue).
We take her with us everywhere – and also at work. Here she is with me and Paso Robles Winemaker Ryan
Render – she loves playing in the vineyards and staying at nice hotels!"

~ Meridith May ~



SHASTA
formerly known as Xena

"This is sweet Gracie with her summer cut. Formerly Xena."

~ Amte Spett ~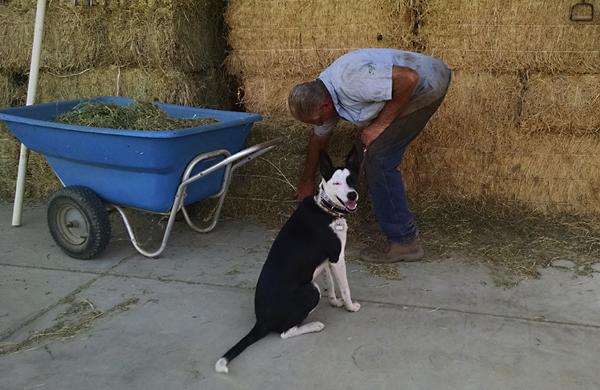 CATE
formerly known as Cate

"Cate is doing great and has a McNab sister now!! Frick & Frack for sure!!"

Keep up the good work.

~ Julie ~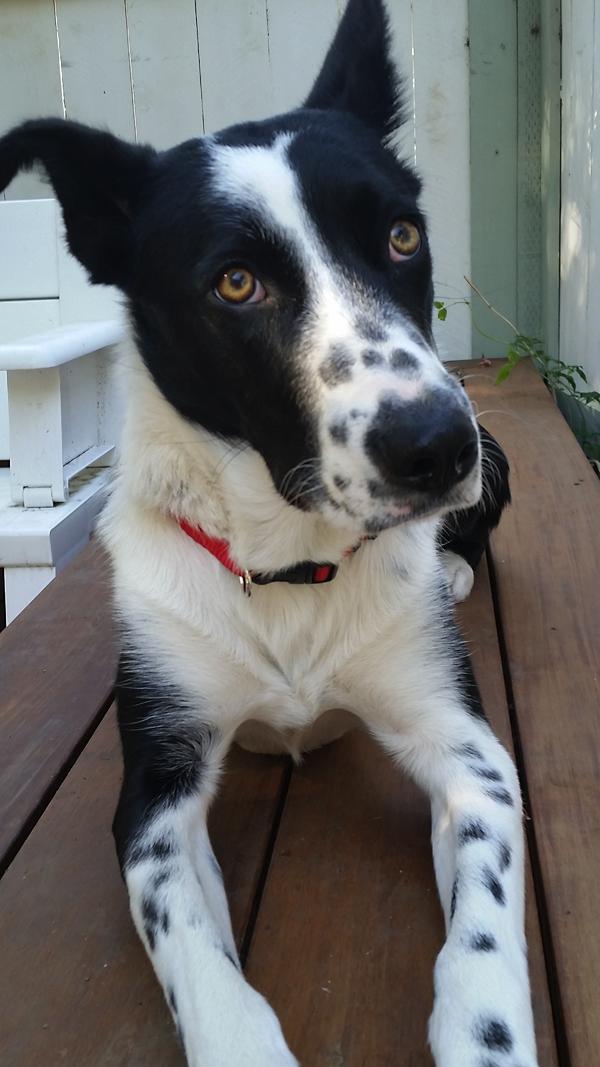 MOXIE
formerly known as Angie

"Here is a recent picture of Moxie, formerly known as Angie. She now has a big yard
and a ton of friends in her happy life. She has a nice, big fenced yard in Laurel
Canyon, sleeps up on the big, comfy bed, loves Animal Planet, and bully sticks.

Her confidence grows daily. She's put on a few healthy pounds and isn't the skinny,
nervous girl from her early days. She particularly loves to play catch and retrieve,
and is a terrific and very loud watchdog. She's a beauty with a big heart and great energy.

Thank you so much for rescuing her and sharing her with me. She rescued me just as much as I rescued her.
Thanks again and wishing you the very best of the holiday season!!"

~ Mimi Mayer ~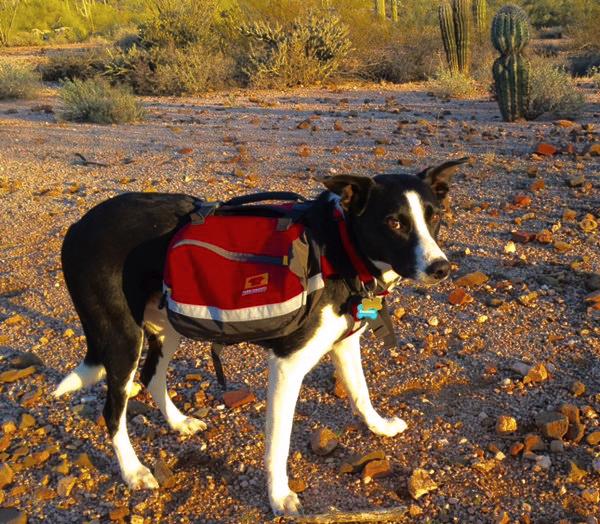 SNEAKERS
formerly known as Sneakers

"Happy Holidays from Sneakers Budinger."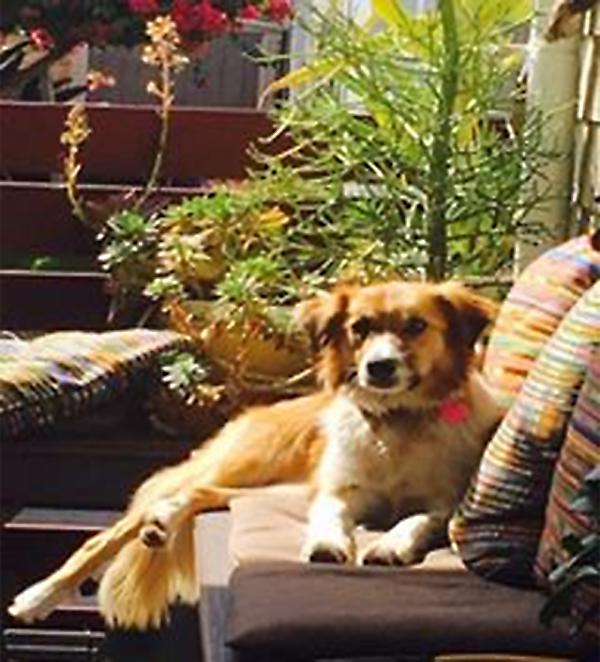 GOLDIE
formerly known as Goldie

"It gives me great pleasure to send Goldies photos for such a good cause! It was hard to pick,
sorry if there are a lot! :))) We kept her name, because it suits her. She loves to run, dig, catch
squeaky balls and of course the belly rubs. Goldie talks too…. She is one happy girl!

It has been magic having her with us, and everywhere we take her people love her.
She could very easily be a therapy dog.

Much love and blessings for the holidays. Thank you for Goldie!"
xxoo

~ Anita and Greg ~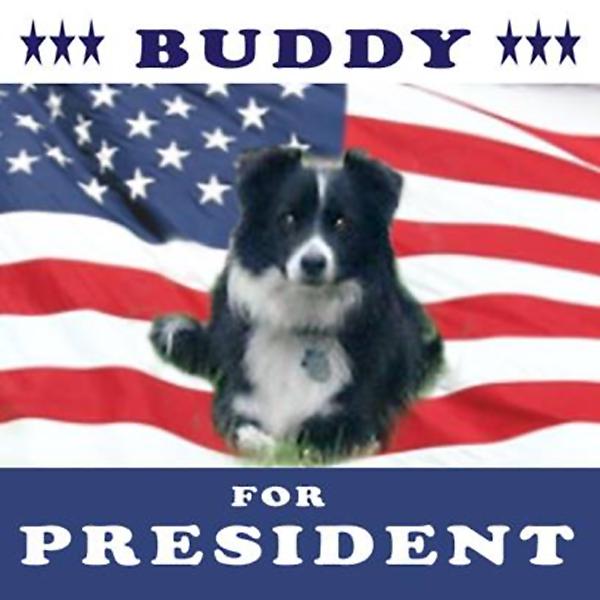 BUDDY
formerly known as Hunter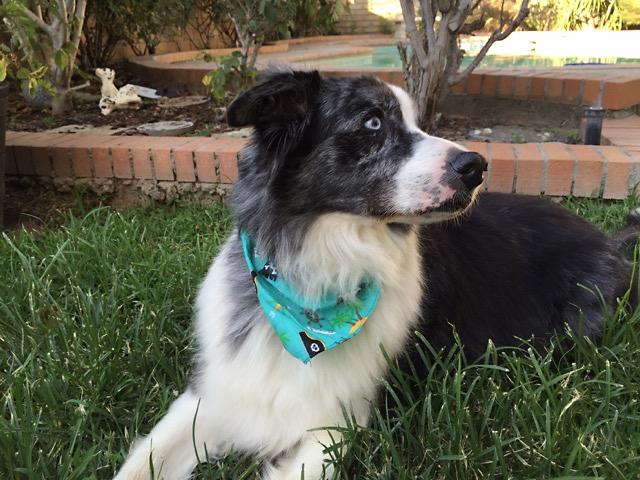 MERLIN
formerly known as Rocco

"Here is a recent photo of Merlin (aka Rocco, adopted from BCIN Oct 12, 2008. He's about 12 now,
has arthritis and bad hips but we have a great Vet giving him the best of care and keeping him comfortable.

We're not sure how much time he has left as he's slowed down considerably lately (it makes me teary to write this).
He's the light of my life, a true Mama's Boy :) and both my husband and I are so grateful to BCIN for
entrusting his care to us. We'll be making a donation in his honor to BCIN."

Thanks & Happy Holidays!

~ Elaine & Jeff Roessle ~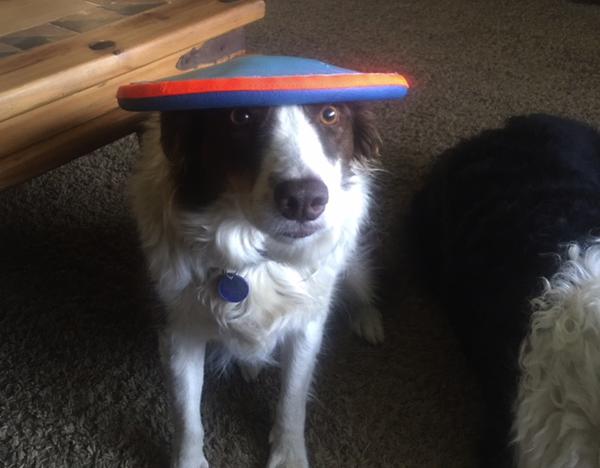 TAWNY
formerly known as Tawny

"This is Tawny we got her from you in Dec of 2013. We kept the name you gave
her She is an important part of our family and we love her lots!!
Thanks again."

~ Warren Atchley ~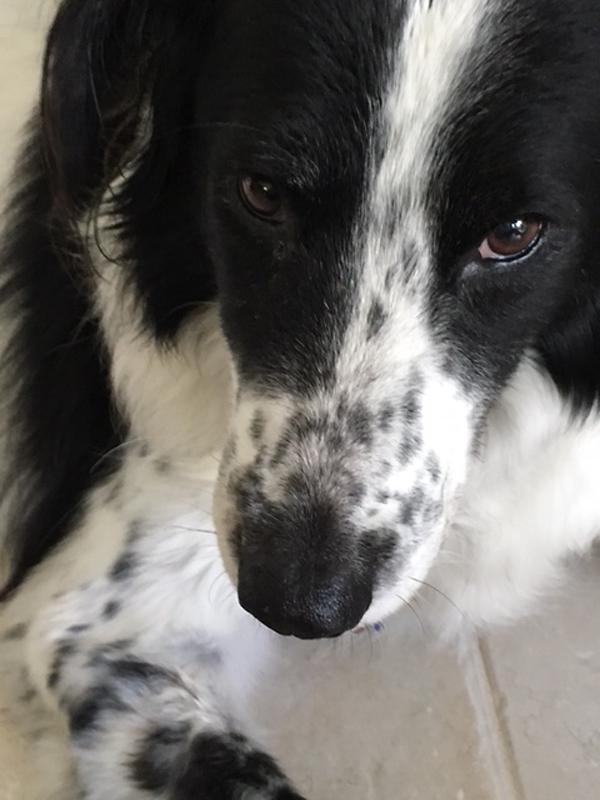 MAX
formerly known as Max

"He's been my best buddy since 2009. He's a happy guy who never leaves my side.
Thank you Suzanne for rescuing him for me."

~ Leslie Rosenblum ~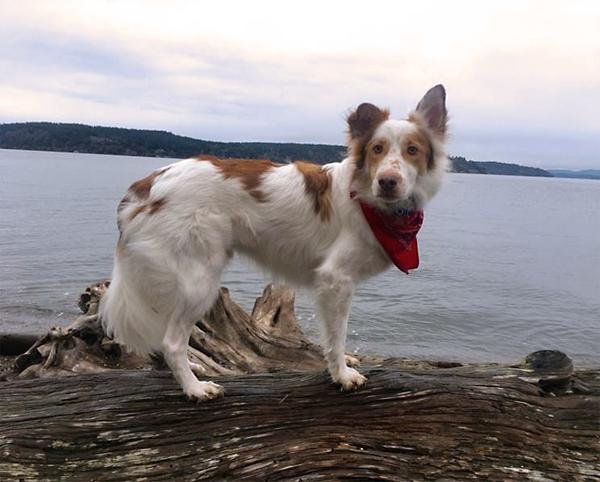 DUSTY
formerly known as Whiskey

"Dusty, formerly Whiskey, adopted a little over a year ago. Dusty is awesome…best dog ever!
We have been on two road trips this past year so I had lots of photos for you to choose from
and a thousand more! haha! We love him and I couldn't have found a better companion
to travel with, to love and to help me in my daily job (dog trainer)

He can switch from super snuggler to a dog up to play anything with a snap of my fingers
and that makes him the best! Thank you so much for all that you do! I can't imagine our lives without him!"

~ Bethany Wilson ~



BOOTS
formerly known as Gidget

"This is formerly Gidget, now the artist known as Boots. She is a glorious dog. It turns out
that she was only 9 months old (rather than 18 months), and had probably never been indoors in her life.
So, much destruction and much training (and much money) later, and we've finally gotten her to where
she needs to be. She is whip-smart, and has a delightful personality."

Merry Christmas,
~ Cindy Carson ~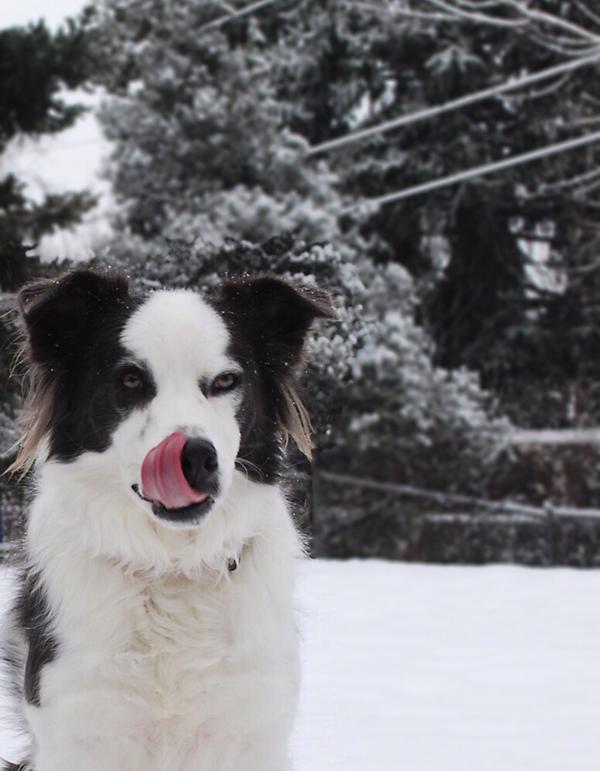 CHARLIE
formerly known as Harley

"I adopted Charlie (previous name Harley) in July of 2013. We now live in Denver and he loves it!
While I am at work during the day he gets play-dates with our neighbor's dog and gets walks from the
neighbor on the other side (he is more popular on our block than I am!). Our weekends are spent
exploring Colorado and every so often, driving down to New Mexico to let him run around with my
parents' BC (who was also rescued from you guys!). He is my best bud and I'm so glad
that we found each other.

Attached are some photos of Charlie in our backyard in the snow!"

Sincerely,
~ Christa Rochford ~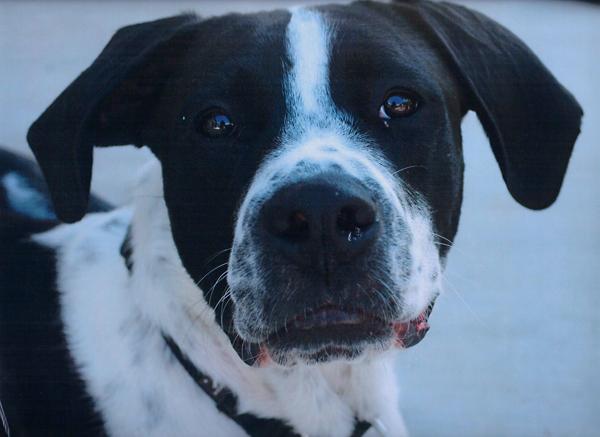 JASPUR
formerly known as Jaspur

"I adopted Jaspur about 5 years ago from Valerie in Alpine. The picture with the boxer
is shortly after we brought him home. The other picture is from a calendar my sister-in-law made
and he is Mr. August. He is the love of our lives – I can't say enough about how good he is
and how smart. He has made a border collie believer out of me. I should have renamed
him Velcro because he never leaves my side when I am home. Love him to pieces."

~ Nancy Wright ~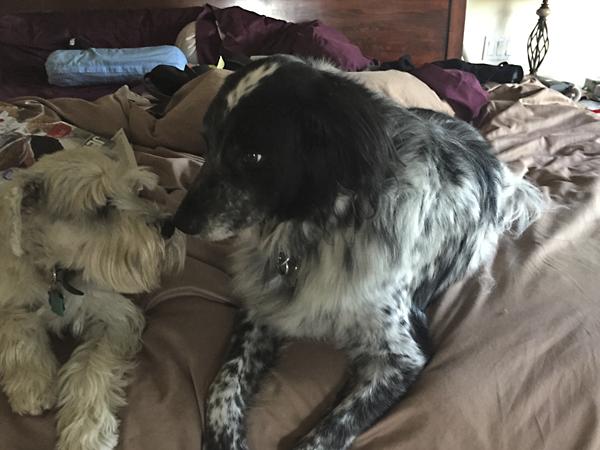 OLIVE
formerly known as Marble

"Here is Oliver(he was "Marble" when we adopted him 3?? years ago) with his older brother, Jackie.

Keep up the good work!"

~ Carla ~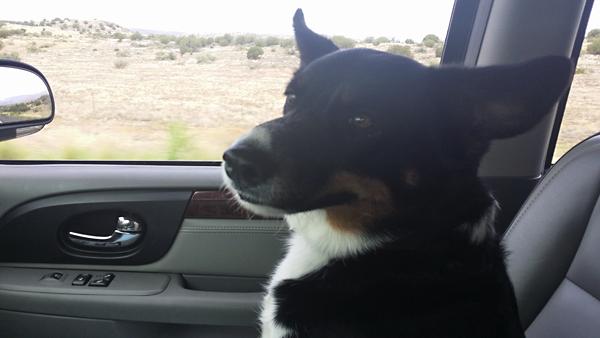 AUSTIN
formerly known as Tessie

"We adopted Austin (Tessie) was her name from before. She is such a love and so much fun.
She lives in Sherman Oaks and has two sisters. We adore her."

Thanks so much
~ Raeann ~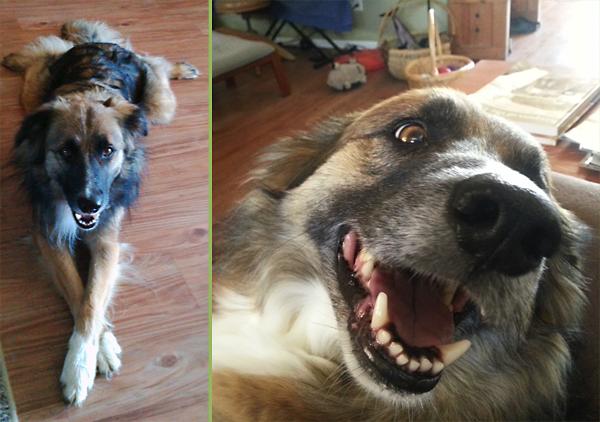 BLAINE
formerly known as Blaine

"Suzanne and BCIN Volunteers,
Thanks for reaching out for updates on adoptees. This one is for Blaine (adopted 12/31/2011 in Van Nuys,
and now 10 yrs old). Blaine is still thriving with Ann and Roy and has settled comfortably as an only dog
after losing Gromit several years ago. Blaine still fills his self-appointed role as unofficial neighborhood
ambassador to all canines but especially adores romps with pals Ranger and Sheila, and sleep-overs when
Stella or Hitch can make it. He loves treats, chew bones, his basket of grunty hedge hogs and other stuffed pals,
and lazing about on sofa or bed with his pack. He makes our lives so much richer and inspires us to become better people.

Heartfelt thanks to you and the other BCIN volunteers for the inspiring, caring work that you do!
Best wishes for a wonderful holiday season!"

~ Ann Munns & Roy Dugger ~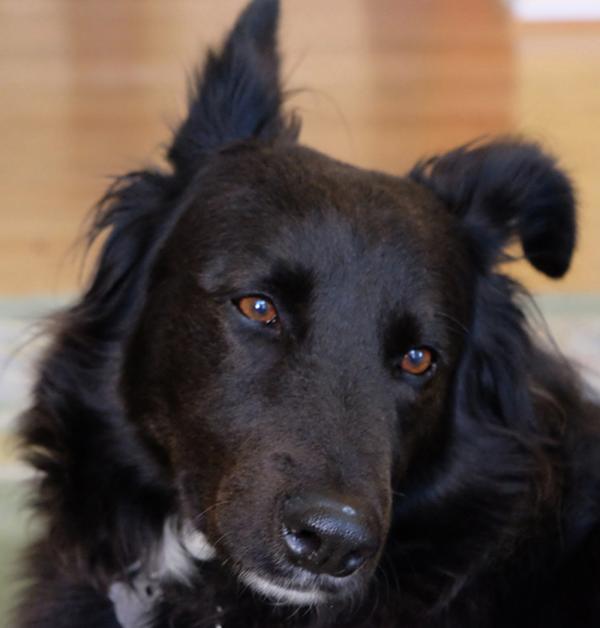 JINX
formerly known as Jinx

"Experts seem to agree Jinx is more Belgian Shepherd than Border Collie. Frankly, I'm in love with the dog,
not the breed label. He gets compliments for being so handsome most days, but I always reply that the best thing
about him is not his Brad Pitt come-hither looks but his sweet temperament! That's how he's helped see me through
some hard times including my husband succumbing to cancer about 3 years ago. :( I credit Jinx with helping me keep
on going and thus I keeping on trying to learn from his sweetness.

Happy Holidays and Thanks to all of you at Border Collies in Need."

~ Sally S ~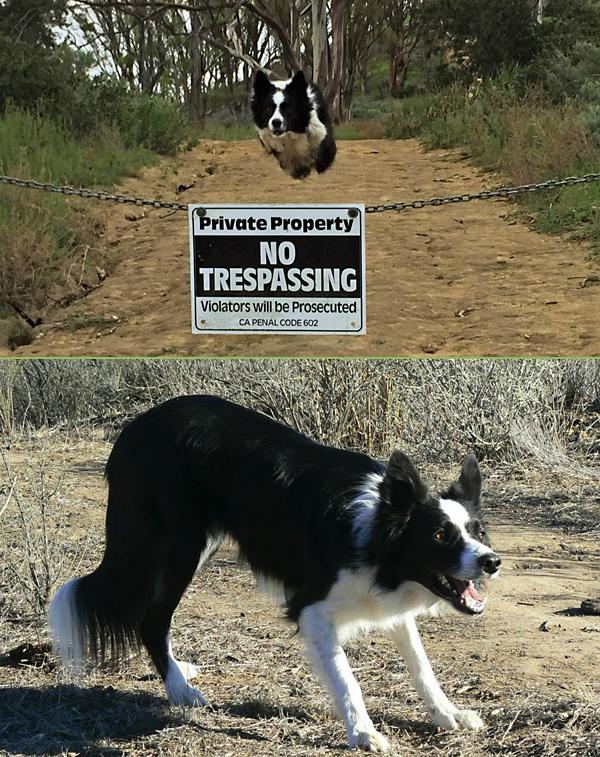 OLLIE
formerly known as Oliver

"Ollie is doing fantastically well. He and his human brother – my Son Cameron (now 9) keep me on my toes all day.
We hike every day and some of the attached photos are from that hike.

Our very best wishes to you and yours too!"

Cheers,
~ Andy, Heather, Cameron and Ollie Smith ~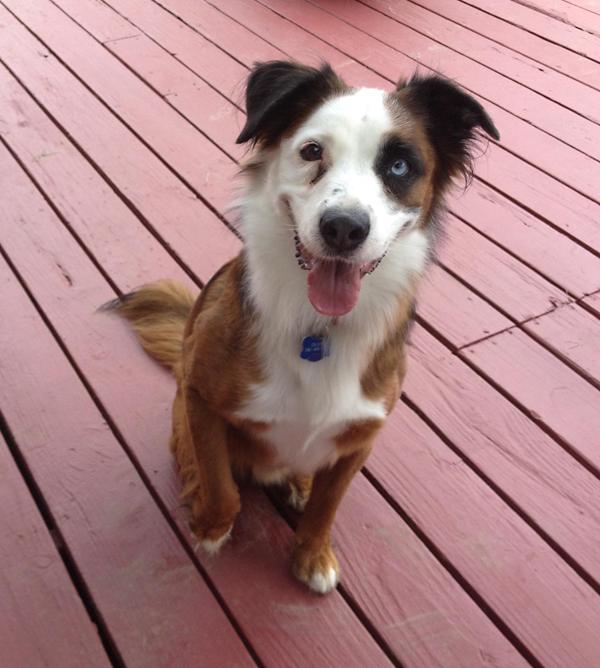 DUSTY
formerly known as Dirk

"Attached is a picture of Dusty, adopted about 6 years ago and the best thing I've ever done in my life.
Tammie had been fostering him and his name was Dirk. I have a new boyfriend and I know it is real, since Dusty
adores him and I think I've actually lost my dog to him-they both adore each other.

He takes regular walks, participated in Strut Your Mutt, and has playdates
with his doggie friends and has been to dog beaches and Yosemite!

I adore him-thank you for first rescuing him.

Happy Holidays!"

~ Eileen Wolber ~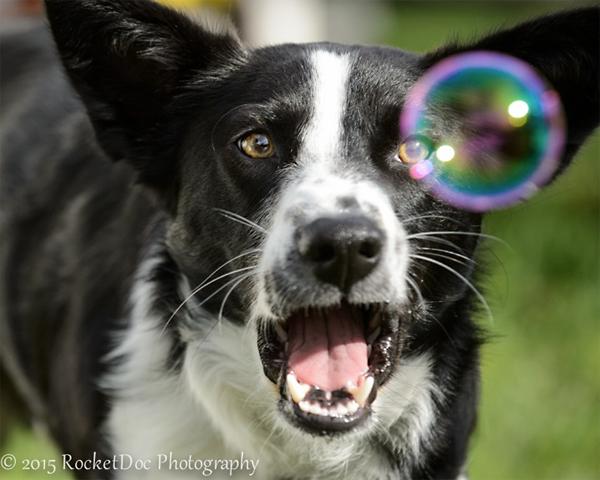 NENO
formerly known as Nino

"This is Neno Nachsel aka Prince Charming. We will be sending a donation out asap also.
Thank you for your wonderful organization."

~ Lucia ~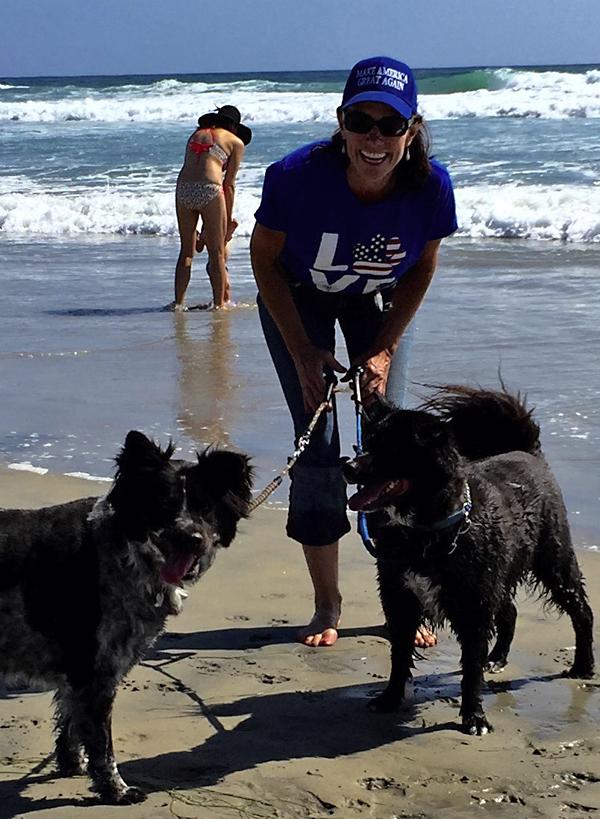 OZZIE & CHLOE
formerly known as Fred and Bettie

"We adopted Fred and Bettie from Valerie Schaaf in December 2010. There was a litter of 4.
The puppies were found in a trailer park in El Centro. We wanted ALL of them. We originally wanted one,
ended up with two. They are the loves of our lives. We spoil them rotten and they are referred to as our "fur kids"...

Here are some pics I found on my phone. So Thankful for these precious dogs!"

Sincerely,
~ Steven and Rhonda Brennecke ~



RUBY
formerly known as Darby

"Thank you for doing this! I've attached 2 photos of Ruby (formerly known as Darby):

1. Ruby's first ride back to her fur-ever home! She was still a baby then (May 2013).
2. This picture was taken more recently, on July 4th. She's a beautiful lady now! ;-)

Ruby wishes everyone a great holiday season, and cannot wait for more adventures in 2017!
Thanks again!"

Regards,
~ Tina & Ruby ~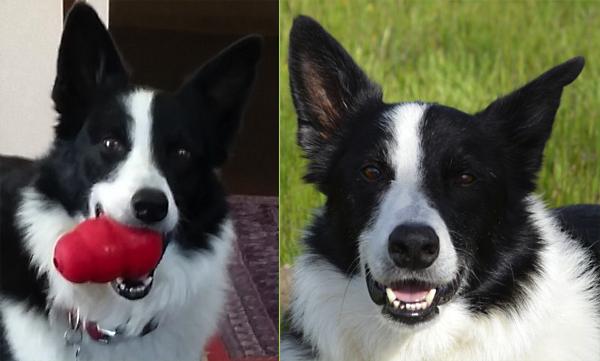 RADAR
formerly known as Rex

"Here are a couple of shots of Radar, formerly Rex.
He still responds to the command "give me a kiss" with a big smooch right on the mouth.

Happy Holidays!"

~ Susan and Dave ~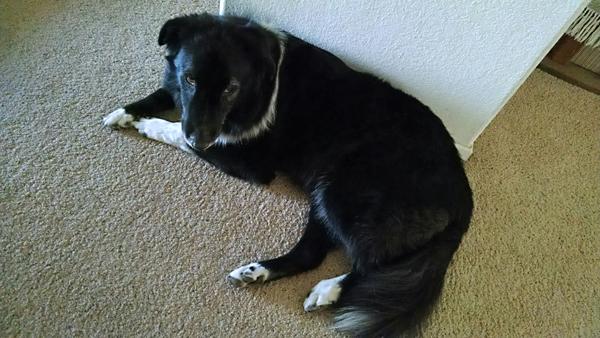 REX
formerly known as Rex

"Rex is going to be 9 in January. Cannot believe how time has flown by."

~ Julia M. ~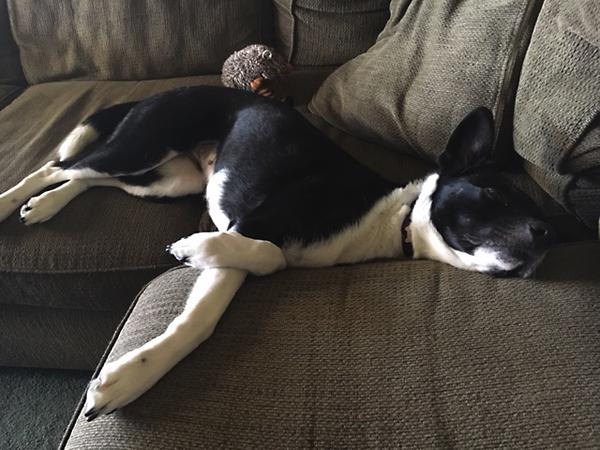 LUNA
formerly known as April

"We adopted Luna (rescued as April) at the June pet adoption event at Griffith Park. She has turned out to be the sweetest dog.
It was fun to watch her gradually make our home her home, become protective, bark at the door (but never too much!) when people knocked,
or walk by on the street in front of our house. She's spoiled by my boys, and gets long walks every day through the neighborhood. I've
taken her to the beach which was quite an adventure. And also to the mall, she's game to go wherever. She rides well in the car,
simply lays down and goes to sleep. We can't believe how lucky we got that she's so well-behaved. Her only vice is she's not
a big fan of other dogs, so that's something we continue to work on with her, to socialize her more. She loves belly rubs,
playing fetch with her toys, and tug of war with old t-shirts.

She prefers to sleep in the front room of the house, seemingly guarding the family from any intruders throughout the night.
She has the run of the house and could be with any of us at night, but that's her preferred spot. Now that the xmas tree
is up, we have to keep an eye on her. She's not quite sure what to make of it.

Happy holidays to you and your family and to all the border collie folks you work with. Thanks for all you do,
it's certainly made our lives so much better having Luna be a part of it."

~ Lisa ~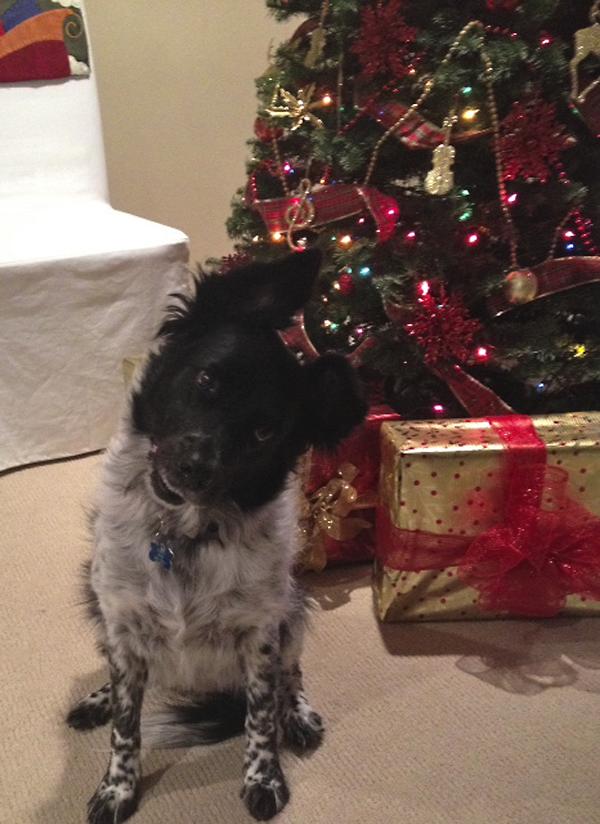 CASEY
formerly known as Cassandra

"This is "Casey" who was adopted 5 years ago. We kept her name. She is happy in a huge yard, plays with her best friend "Abby",
goes on long walks, is very smart and obeys well. She is very healthy and loves people. And we love her back!"

~ Valerie ~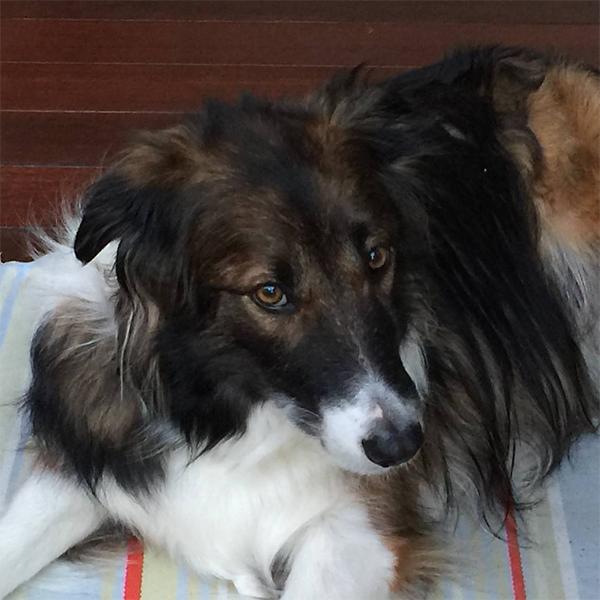 SHEP
formerly known as Shep

"Our gorgeous boy is 11 this year! What a great dog. We are still doing agility and he enjoys his classes so much.
He still has the most terrible fear of the UPS man, which at this time of the year is a nightmare!
But we work through these issues and overall, he is a really happy dog. Happy holidays
to you all. Without you guys we would never had our wonderful friend and companion."

~ Hillary & Derek ~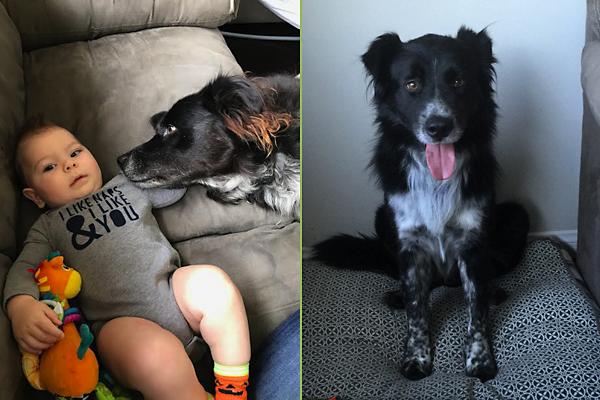 DUKE
formerly known as Royce

"I have a couple of photos attached of Duke, formerly known as Royce. He's become a very special
part of our family and a great big brother to our new addition, as you'll see in the photo.

I wasn't sure which photo you would prefer, so feel free to choose between the two.
Thanks!"

Jonathan and Kelly Collins ~ Hillary & Derek ~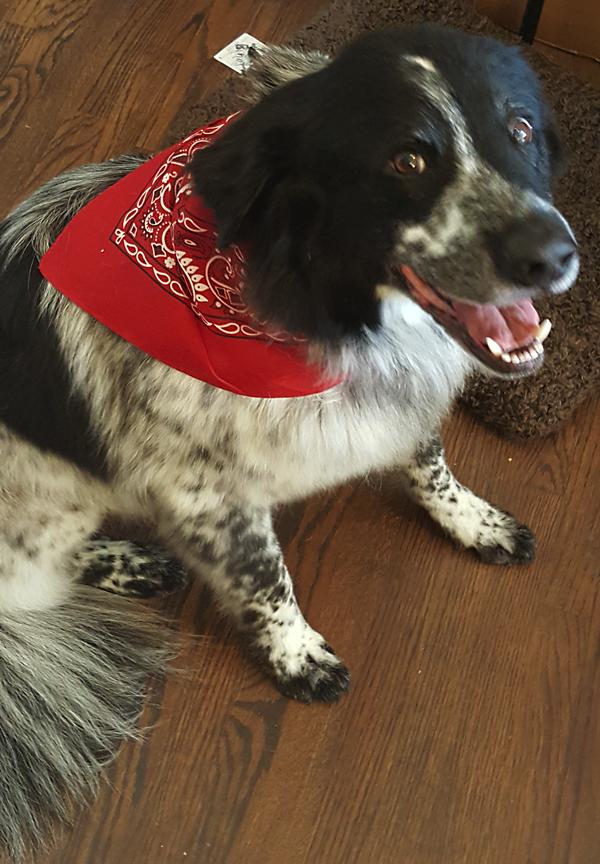 JETT
formerly known as Burley

"Happy Holidays! I'm early this year! Here is our Christmas photo of Jett,
formerly known as Burley! Thank you for all you do!"

Best always,
~ Rebecca Rinot ~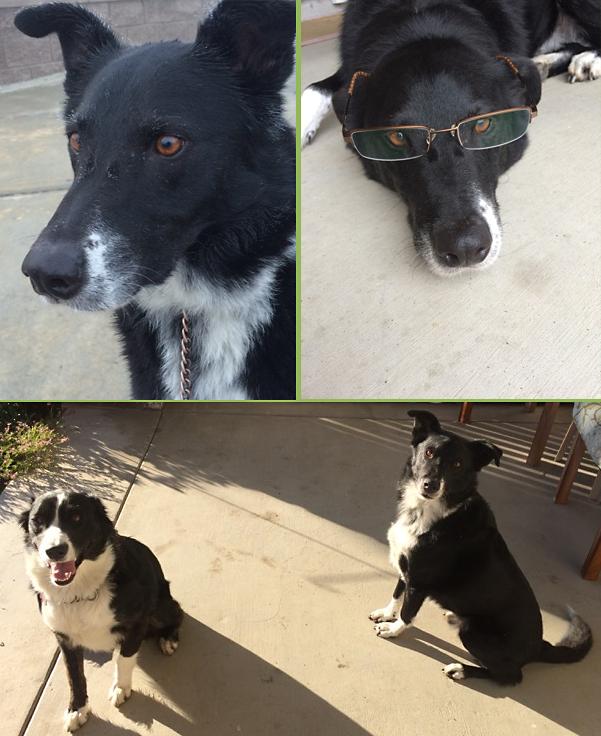 BEN
formerly known as Gentle Ben

"Here are 3 pictures of "Ben", formerly known as "Gentle Ben". He still lives up to that description, he is so gentle, calm and friendly.
The first picture shows some condensation on Ben's face after a run in the fog. He loves his runs and gets to run almost everyday. The third
picture shows Ben on the right and our neighbor's dog, Carly, on the left. My neighbors got Carly when a litter of puppies were found
abandoned. I wanted to take Carly home with me but my neighbors got her first. I had never seen a border collie puppy before as Ben
was found as a stray in El Centro and was fully grown when we got him. They are so cute!! Someday I will have a pack of border
collies…working on that dream!! Thanks for all that everyone at BCIN does for the best dogs in the world! Happy Holidays!!"

Love,
The Lai family
Jackie, Wilson, Andrew and Ben



CHOCO
formerly known as Choco

"This is Kevin and Michelle's second Christmas with Choco, and the first in a new apartment and with the newest member of the family, Phoenix!
We adopted Choco in July 2015 and he has been nothing but a joy to us. After being adopted from BCIN, he lived in a home in Tustin with Kevin and
his family of six, as well as two adult cats. In August of this year, Kevin and Michelle finally tied the knot and found an apartment together.
Choco yet again had to adjust to a new home, this time with Michelle's little Brussels Griffon/ Norfolk Terrier mix, Lilly. A few weeks after
move-in, a 5-week-old kitten, Phoenix, was added to the family after being found on the street by one of Michelle's clients at the Animal
Clinic of Tustin Ranch. Choco's demeanor never seems to change and he just loves to be with his humans above all else. He quickly
learned how to raise a kitten, although he still isn't thrilled when she lays in his bed (see grumpy face in picture)! Aside from
spending relaxing evenings in front of the TV, Choco loves to go for car rides, play fetch at the park, and he especially loves
swimming in the ocean. Having just had surgery for a tooth extraction and a mass removal, Choco looks forward to getting back
to the beach soon. No matter where life takes the McKelvey family next, Choco will be along for the ride!"

Love,
~Kevin, Michelle, Choco, Phoenix, and Lilly ~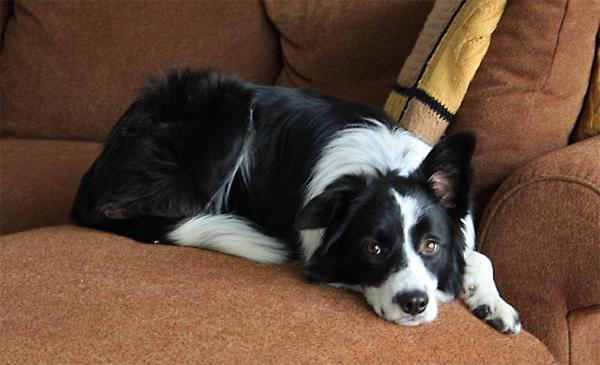 GRACIE
formerly known as Grace

"Happy Holidays from Gracie."

~ Laura ~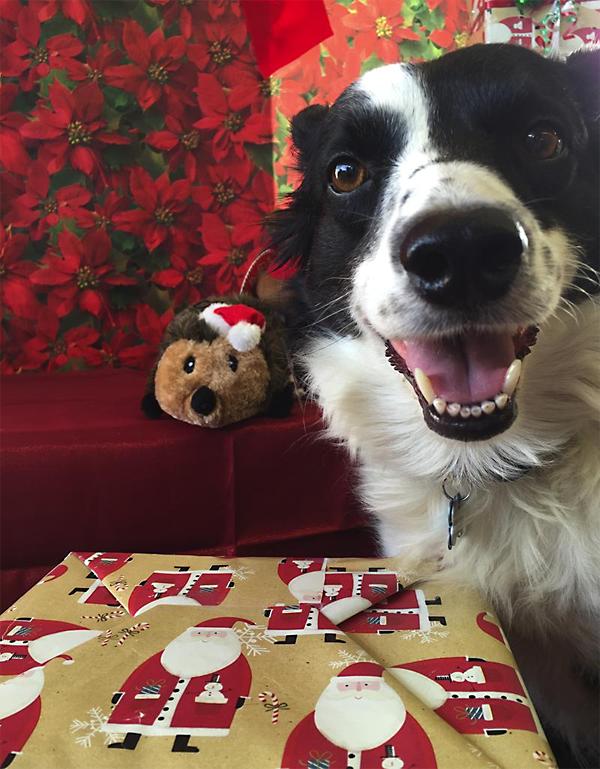 MAGGIE MAY
formerly known as Christy

"..if there was ever a great Christmas picture with a happy grateful pup, it is this one.
Maggie May FKA Christy. Enjoy it as much as we do and her!"

~ Daniel,Michelle and Maggie ~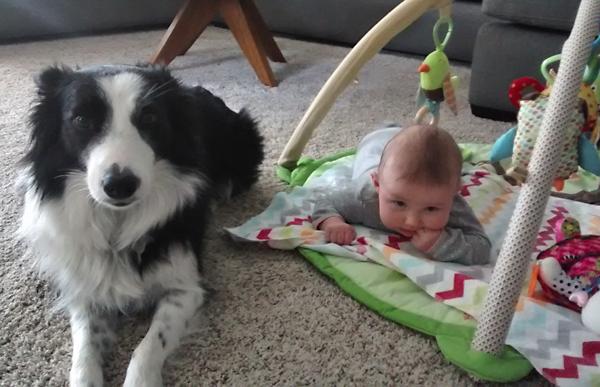 SOPHIE
formerly known as Button

"Happy Holidays! We have attached some photos of our last year with Sophie (a.k.a. Button from her foster days).
We just love her! She became a big sister in February and she makes sure that we know when the baby cries by coming to get us.

Sophie has gone with us on trips to Yosemite, Moab, Mammoth, Ventura, and Colorado. She is our most favorite companion and we are so lucky
to have found her. She used to be aggressive with other dogs (that's why two families before us didn't take her), but after some
training she now LOVES playing with other dogs off leash. She can run for HOURS! Other favorites of Sophie's are
hunting backyard squirrels, going for car rides anywhere, and sleeping in her bed.

Thank you Border Collies in Need!!!"

~ Renee and Mike ~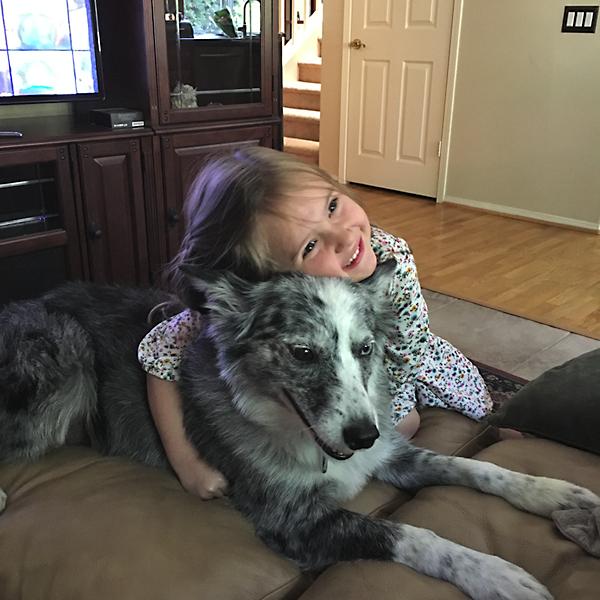 CASEY
formerly known as Casey

"We adopted Casey from BCIN in July 2008. She's still doing great and is a much-loved member of our family!!"

~ Richard and Mary ~



BEAR
formerly known as Bo

"Here is Bear up at Mono Lake, how regal he looks!! Hope you are well.
Warm regards"

~ Pauline ~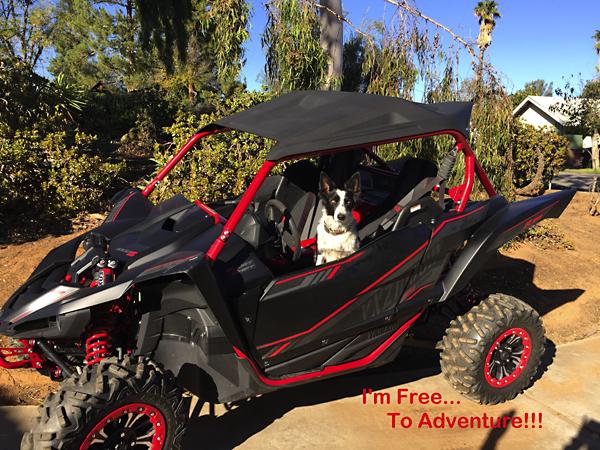 POWDURR
formerly known as Little Girl

"Powdurr (formerly known as Little Girl -although we still call her that from time to time) is doing great!
She and Fendurr have become best buddies and it appears she is the alpha of the house now. I know you know that
we took her to the beach for two weeks this summer where she went boating, learned to swim and play Frisbee.

She is in love with my husband - he is her Knight in Shining Armor and would prefer he not give me any
of his attention. We have learned that he is second only to the "Ball" as this is her favorite
thing in the world. Since the beach, she has been camping twice where she loves to ride in
the YXZ with Ken, Jeeping multiple times and has learned to train mommy for her 5K's.

We are truly blessed to call her ours and we are so grateful
that you provided her safety until we could find her.

Merry Christmas to you!!"

Much love,
~ The Durr Family ~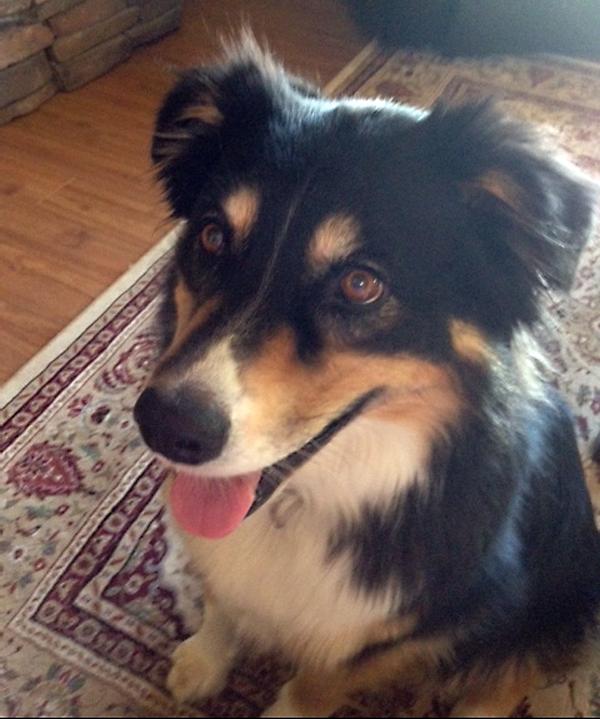 ALLIE
formerly known as Colby

"Here is our picture of Allie (formerly Colby). She is now 4 1/2 years old and still a bundle of energy.
She loves to travel and took a 2 month road trip over the summer. Her favorite activity was to run
with her "cousin" Molli (a basenji/shepherd mix). We enjoy her very, very much. Thanks again for Allie !!!

Merry Christmas and Happy New Year to you and your family and the wonderful volunteers."

Much love,
~ Dave and Lyn Gilmore ~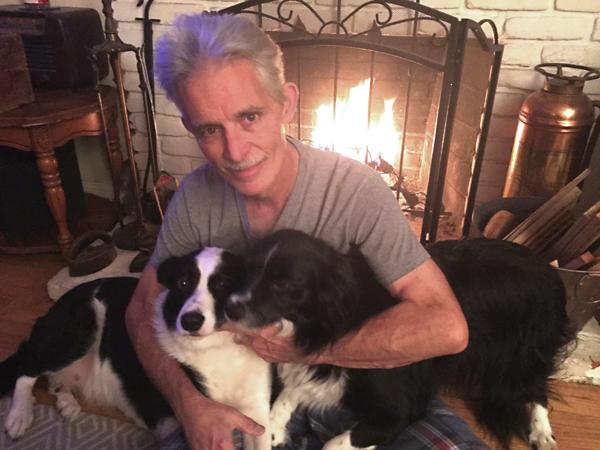 ARROW & SOPHIA
formerly known as Arrow and Raggedy Ann

"Attached are two photos of Henry with our two BCIN babies... Arrow, the smooth-coat and Sophia
(formerly Raggedy Anne). Arrow and Sophie live with their oldest sister Molly (also a Border mix
and a shelter rescue). Needless to say, our house is hopping with activity!"

Happy Holidays!
~ Patti & Henry, Arrow, Sophie and Molly ~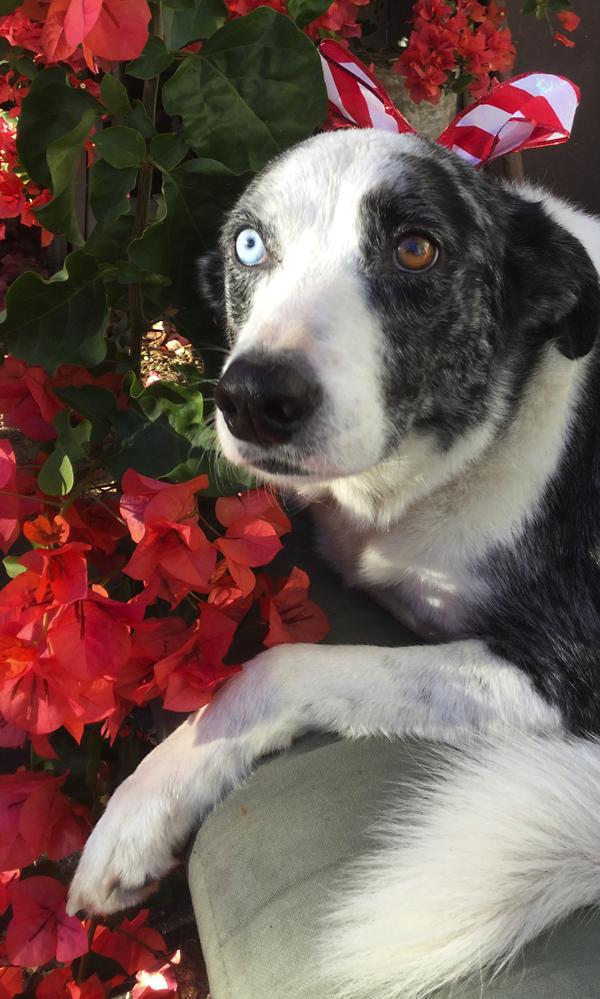 BLEU
formerly known as Bleu

"Bleu (adopted 2012) is doing great! He is the sweetest dog ever and his love for us is boundless!
He is very obedient, protective of the younger children, and aims to please ALWAYS. It is
unfathomable how this great dog ended up in a shelter but he certainly fits with our
family ethic of scouring thrift shops, Craigslist, and yard sales for that
"great find". He is a "diamond in the rough." Thank you for your
terrific organization and all you do for these wonderful dogs!"

With love and appreciation,
~ The Aston Family ~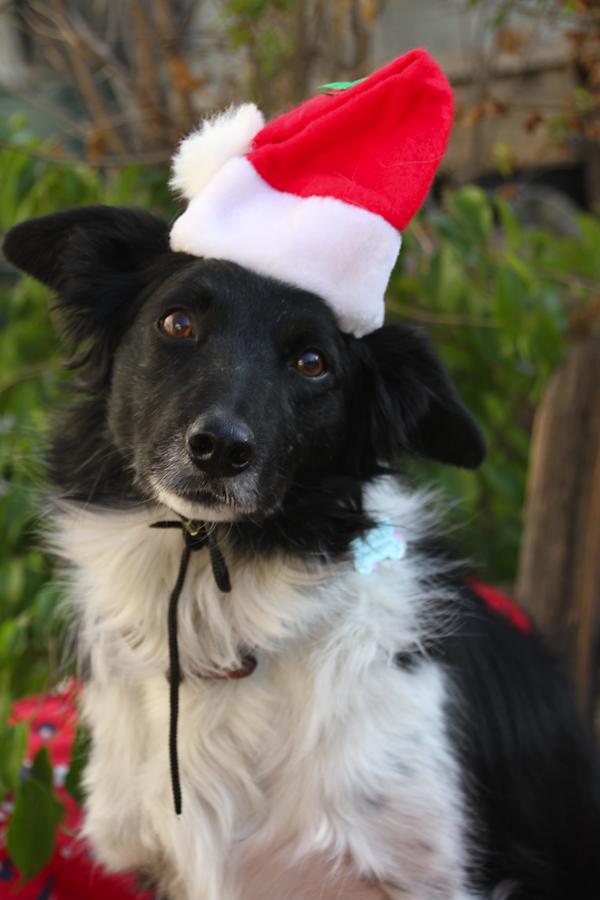 IN LOVING MEMORY OF SKID
formerly known as Skidz

"Even though Skid is at Rainbow Bridge, I found this photo today on our memory stick.
What a cutie! Let me know where this is posted."

~ Benny and Becky Wong ~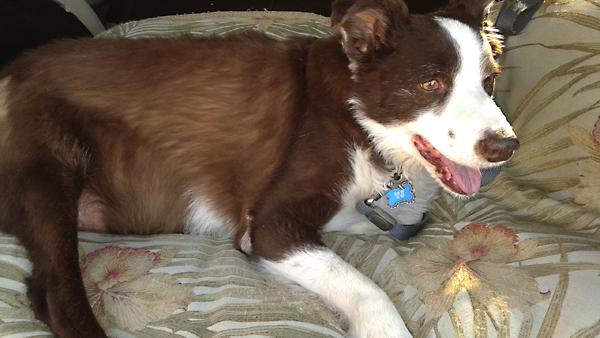 TJ
formerly known as TJ

"Thanks for all the great work you and your foster families do.

We rescued TJ in July of 2014, and have relocated back to Phoenix this past January.
TJ is very happy being the center of attention. His hips and back have developed arthritis,
so he is taken for acupuncture treatment twice a month for pain management. That and some meds,
keeps him in good spirits. TJ is a kind and loving soul, and we are so grateful he is part of our family."

Best regards,
~ Jeff Grossman ~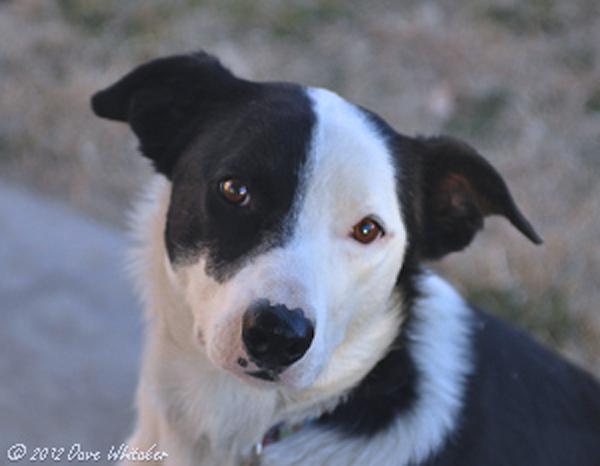 LASSEN
formerly known as Lassen

"Thanks Suzanne. My all time favorite BC, Lassen."

~ Dave W. ~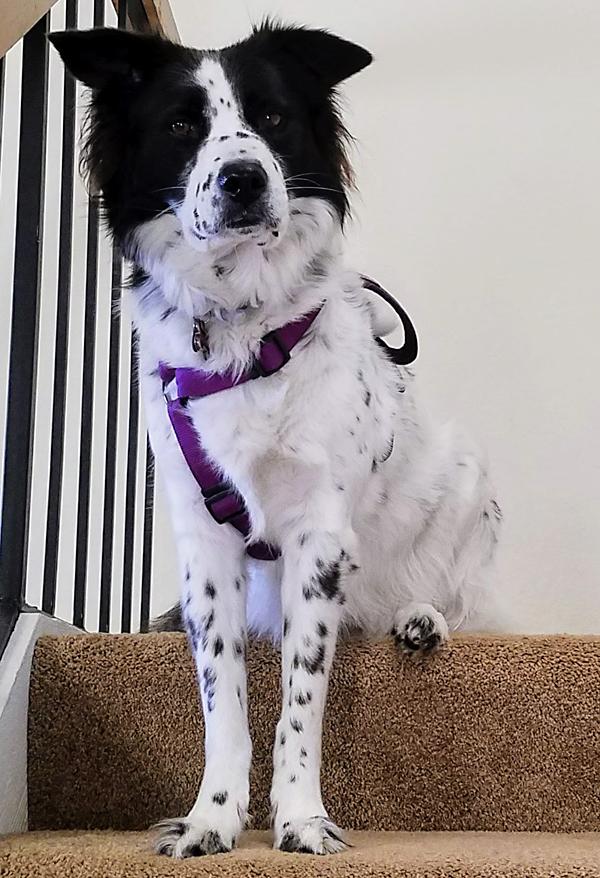 KAYLEE
formerly known as Gemma

"Kaylee (formally Gemma) is doing great. She has been getting to go to
work 3 days a week and has a dog walker on the two days she is home.

Have a wonderful holiday!"

~ Lance & Mary Anne Kimberlin ~



JACK
formerly known as Joker

"Jack (a.k.a Joker), Continues to change the longer we have him. He is filled with love and a funny sensor of humor that
I have never seen in a pup before. He continues to be my running buddy and at the end of each run he has the same
goofy smile on his face as shown in this picture. We also learned that Jack LOVES babies. We had our 5 month old
niece stay with us this summer and every time our niece made any sound, Jack was there to help her and to make
sure we were taking care of her properly. Jack was on call 24/7 and when she left it was obvious that he
missed her. We only expect to see Jack's sense of humor to continue to shine with joy and love for
others. We love him so much and he is a great addition to our pup family.
Thank you so much for helping us find him!"

~ Stacey Bargaehr ~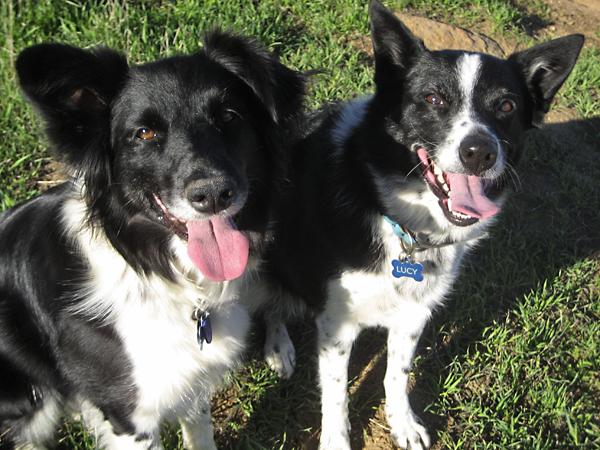 HEIDI
formerly known as Hattie

"Happy Holidays Suzanne,
Hattie was rescued in Bakersfield & I renamed her Heidi. This photo is Heidi on left, & 6 yr old
rescued BC mix on right. They are happy girls & get along just like "peas & carrots"."

Thanks,
~ Lou Fawley ~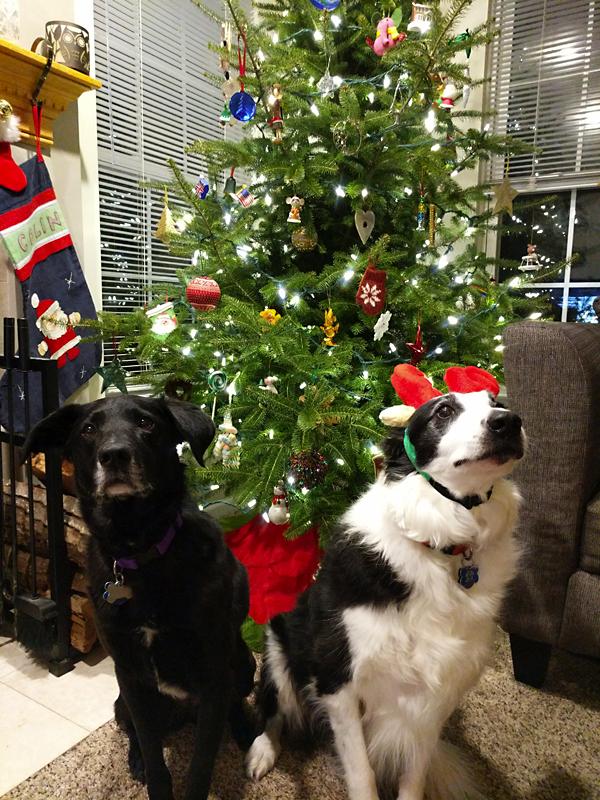 DARBY &JACK
formerly known as Jill and Jack

"Hi Suzanne, attached is a picture of our two well loved and well traveled
(in Michigan now) rescues, Jack (no name change) and Darby (previously Jill).

We've been in Michigan for a couple of years, and both of them really enjoy our spacious yard
(rabbits to chase! they caught one recently, oops), two flights of stairs for running up and
down, and multiple street facing windows from which they can bark at passers-by! We've had
a new human addition to the family since moving here as well and both dogs are getting
along very well with our daughter. She really enjoys petting them, throwing the ball
for Jack (not sure which of the two enjoys that game more), and often talks to them
as though they are human and truly understand what she is asking them do!"

Cheers!
~ Colin ~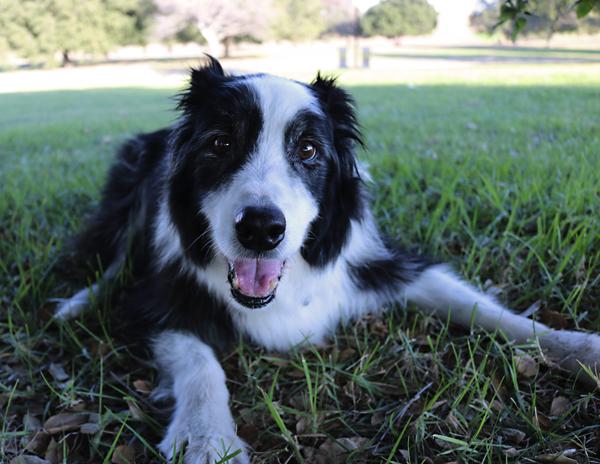 CHANCE
formerly known as Winston

" A little over a year-and-a-half ago, Darin and myself adopted a 10-year-old senior Border-Collie
(named "Winston" at the time) at the LACMA/NKLA Adoption fair. We later named him "Chance";
after the main character played by Peter Sellers in the Hal Ashbury movie, "Being There".

Chance was skinny, shy and reserved when we met him. He had endured a lot prior to his
rescue. Chance slept in our room on his very first night with us. I remember he was
well-behaved right off the bat, and he ate very delicately. When he didn't make a
sound for weeks, we assumed he didn't have much of a bark. When we took him to
the dog park a few times but he kept to himself and barely played, we assumed
he was more of an introvert. However, we kept trying, and we showered him with
tonnes of love and attention. And after a few weeks of being with us, eating good
food, and coming consistently to the park for "playtime", he really came out his shell.

I remember the first day he barked; we were both shocked at how deep and confident his voice was!
He sounded a little like Sean Connery. And after that first bark, he really opened up to us, to other
people, and towards other dogs. In just a couple of months he reached a healthy body weight. Over time
we've come to know Chance as a very happy, gentle and doting friend, who is very playful, sweet and goofy!

Being a senior, Chance has always had a little trouble with his hips. When we first got him, we noticed
he got tired quickly when walking long distances or running. He would often drop steps. But with a raw
food diet and regular exercise at the dog park, his energy levels have transformed and his joints have
improved! Chance now runs and plays with his dog friends for up to two hours (most nights) without
tiring or stumbling. He is happiest at the dog park, where he loves to herd rambunctious dogs. He
never forgets to remind us when it's time to go to the park and do some herding :)
All of our dog owner friends refer to him as the "fun police".

Darin and I love to go on road trips adventures and explore the natural beauty of this country. And since Chance
joined our family, he has been accompanying us. Together we have visited many national parks including;
Yellowstone, Rocky Mountain, Canyonlands, Redwoods, Sequoia etc. He loves being on trips with us,
and he delights in seeing new things. Last year Chance got to see bears, deer and a bison on
our trip through Yellowstone (from the car, of course!) And we learned in Lake Arrowhead
that he's not the biggest fan of the snow. Recently we drove to Northern California
with Chance, and took him to see black sand beaches. He loved running on them.

We are so grateful for all of the joy that Chance has brought into our lives. He is a very special dog.
We are also thankful for Bette and Steve for taking such good care of Chance before he came to be with us.
We have attached some of our favorite photos of our rescue, Chance to this email.

Thank you for all that you do for Border Collies.
Best wishes to you for the Holidays and New Year."

~ Cherie and Darin ~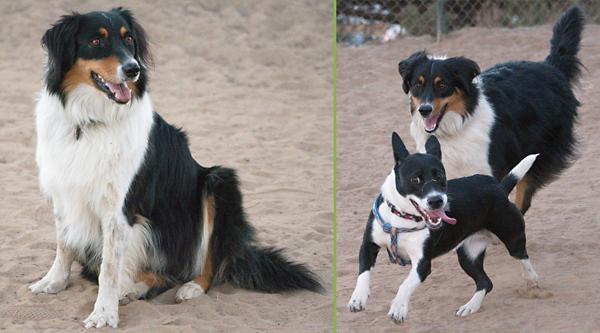 SKYLAR
formerly known as Diamond

"Here are 2 pictures of Skylar. She was known as Diamond when we adopted her in 2015. We are so grateful
to Chris and Robin who fostered her and did such a marvelous job. As you can see in one
of the pictures, if you don't have sheep to herd another dog will do.

Merry Christmas and a very happy Holidays to all of you who are so dedicated to saving these dogs!"

~ Dick and Bonnie ~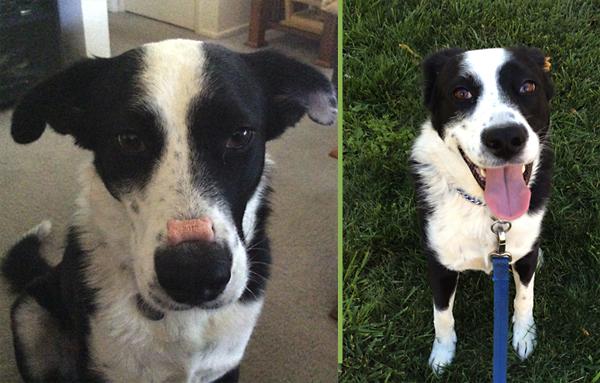 NELL
formerly known as Nell

"Nell has been a part of our family now for a little over two years. Her listed name, when she was listed
on Border Collies in Need, was Lydia, but she was introduced to us in person as Nell. We thought Nell
fit her perfectly, so Nell she is! She has been friendly and loving from our first meeting. Nell
quickly adapted to her new environment and became good friends with the family's older Yellow
Lab, Lucy. They will play tug-of-war for hours, but her favorite toy is a squeaking, stuffed
blue duck we named Howard. Nell has learned a number of commands, and enjoys walking
on leash and running off leash at the neighborhood dog park. We hope to take her
through agility training in the upcoming year, and are looking forward to
taking her on her first camping trip in the spring.

Merry Christmas to the entire BCIN family!"

~ Brian Smith ~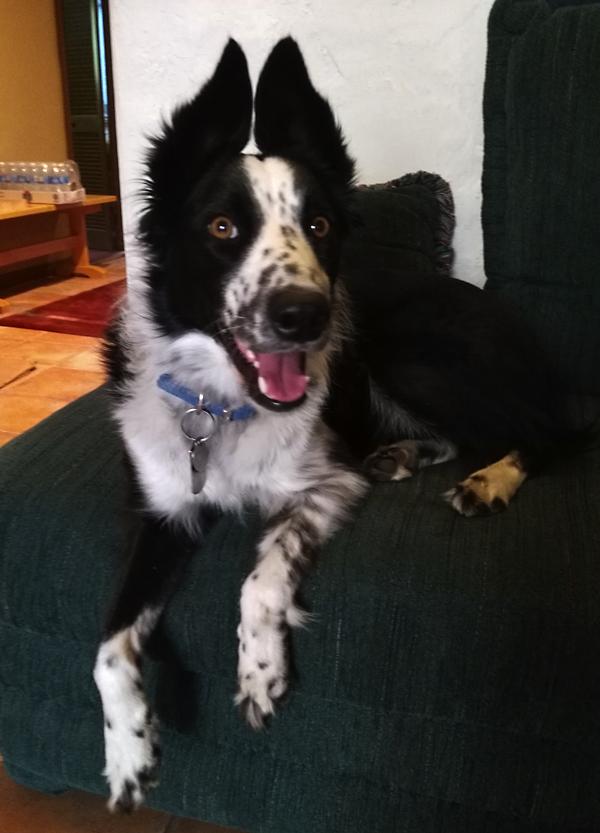 MAIZIE
formerly known as Ding

"This is the latest with Maizie - she is doing great.
She gets along with everyone, dogs and humans anyway.
I can't thank you enough."

~ Lisa ~



TOSHI
formerly known as Oz

"Here is Toshi, originally named Oz. Adopted the first day he arrived in Torrance in October of 2014.
His paperwork says he was found in Bakersfield. If you recall we were there to see Carson and Oz
had just arrived that day and you had not had time even assess. Carson was too strong for me
to manage on a walk. Oz happily came out and jumped on me with both paws gentle on my
waist. We took him home that day. My son renamed him Toshi, meaning wise in japanese.

He has been a fine addition to our family. He rarely barks unless startled, great at
home by himself with a peanut butter dabbed kong. He likes car rides and waits patiently
in the car on errands. Loves to run at the park. Walks great and ignores other dogs who are
barking at him. He loves to eat in general, and carrots in particular. He can plow through any
toys, most chew toys don't make it past the first 10 minutes. the Kong has survived. Sadly he
does not play ball nor frisbee. if you throw anything to him, if not food it will hit him in the face.
He will chase rabbits and squirrels up trees. The squirrels will tease him from branches above.

He is a cuddler that will sit next to me on the couch when I have to work on my laptop.
He also sleeps on his bed next to my bed at night. Thank you for letting me adopt him.

Here is Toshi in the christmas spirit."

Happy Holidays!
~ Michelle Sumi ~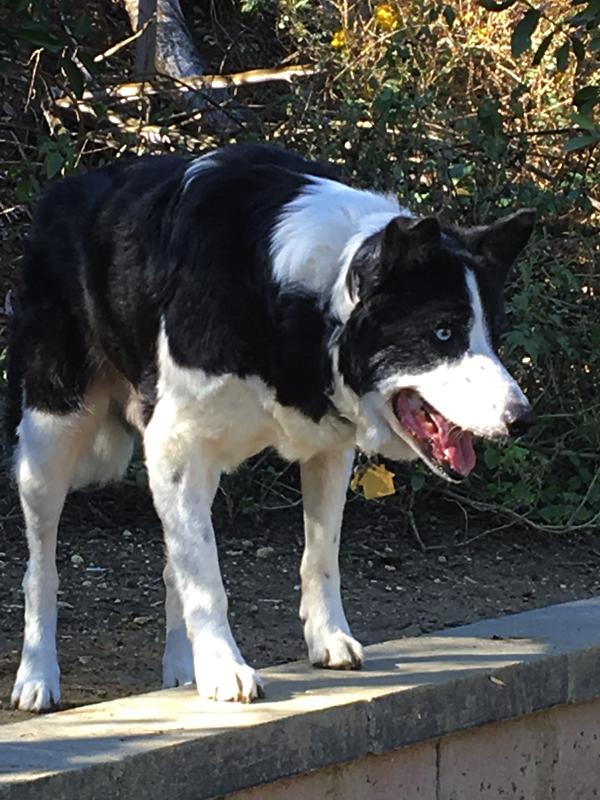 BEAR
formerly known as Josh

"Bear (aka "Josh") joined the family a little more than two years ago, and he has settled in very nicely.
He has two dog brothers (one, another rescued Border collie, the other a Shih-Poo mix) and an Australian
Cattle Dog sister (whom he adores). Bear had been in a car accident before he was rescued, and suffered
a broken hip as a result; but he now runs around with such great speed and agility that you would never
know he had been injured. Bear is a big participant in family ball games, and very much likes going for
walks at night; when he's not running around, he likes lying on any of his several "bear beds", eating
his nutritious dinners, getting his midnight snacks, and being rubbed on the neck and behind the ears.
Bear also likes to explore the backyard at night, looking for what we do not know.

Bear is a real kook, and hence he fits in with the rest of the family just fine.
We are truly grateful for Border Collies in Need, and so, we are sure, is Bear."

~ David and Beth Fretz ~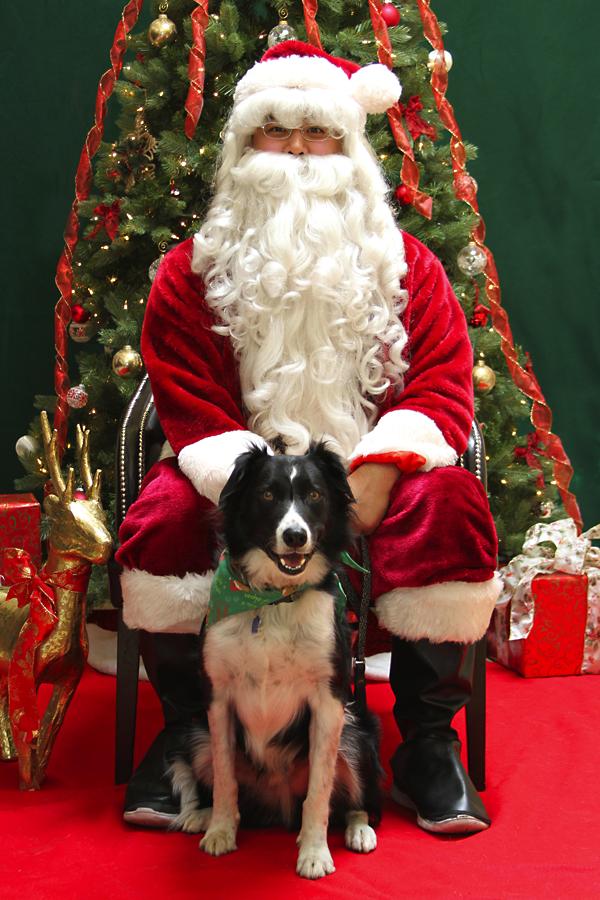 SKEETER
formerly known as Skeeter

"I've been a good boy and I know Santa will bring me something good.
Merry Christmas from Mike, Claire and Skeeter McCarthy"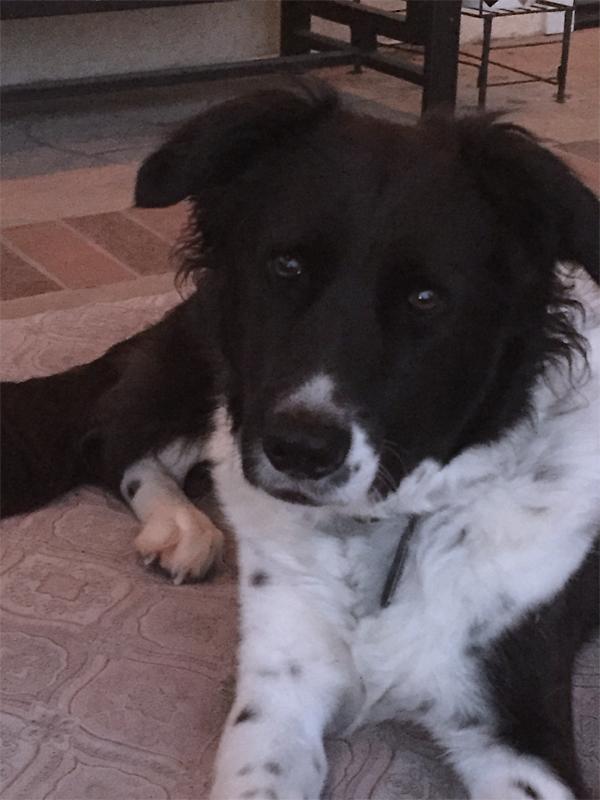 GATSBY
formerly known as Rufus

"This is Gatsby, nicknamed "Handsome Boy". He loves the dog park, chasing balls,
and trying to find gophersin our backyard. Gatsby continues to be Scarlet's, our Irish
Terrier, best pal. He is the sweetest dog ever; we love him so much. Thank you for rescuing him."

~ Chris and Margaret Furbank ~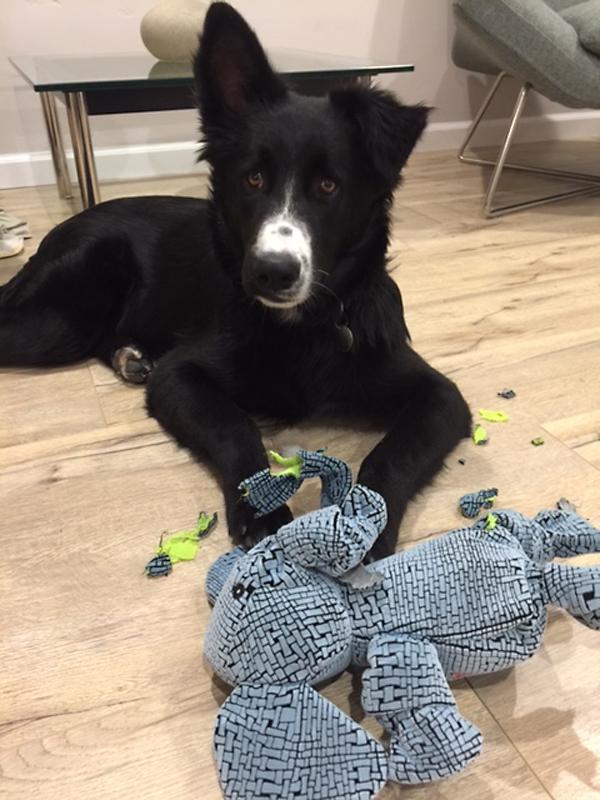 DART
formerly known as Dart

"Dart says merry Christmas :). His personality is in full force and he is doing well
with both daycare and training. He has a girlfriend at daycare and is a complete show off at training :) "

~ Jeff Brown ~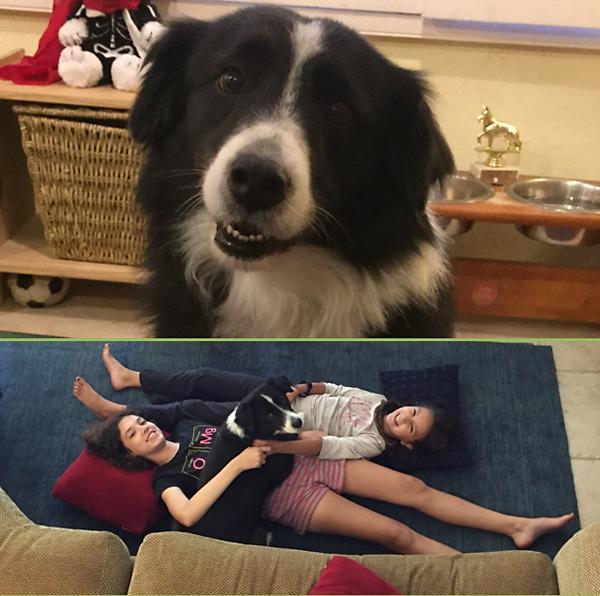 LEXI
formerly known as Jayne

"Greetings, Suzanne, from the Wilner family in Studio City.

We got "Jayne" a few years ago from you. She now goes by "Lexi". Lexi is happy and healthy,
with lots of love from all of us, especially our two daughters, Brooke (age 12) and Brett (age 9).
Thank you for all that you do. We are grateful to have been able to give Lexi a home. She had been
clearly mistreated before you found her abandoned in the Moreno Valley. She had a whistle instead of
a bark, and she was afraid of loud sounds, even just the sound of the toilet flushing or water running
from a faucet. We often called her a "cat-dog," because she wouldn't come when we called her, and
rarely made eye contact. In the 3 years that we have had her, she has relaxed a lot. She
comes when we call her (usually) and she looks in our eyes much more now. She even
got her bark back. We jokingly say, "She's becoming a dog!"

She is a treasure in our life, and we thank you and BCIN for
all the great work being done on behalf of this strong yet sensitive breed."

Love,
~ Shelly, Adam, Brooke, Brett and Lexi Wilner ~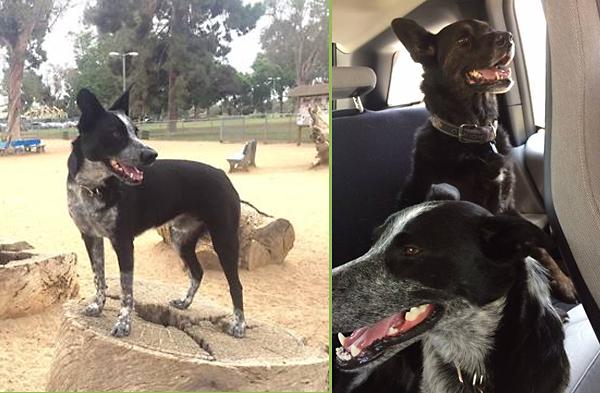 GOOSE
formerly known as Chaz

" We adopted Chaz in May, who now goes by Goose (and also goober, silly goose, goose-tov, Goosey)!
He is doing great and we are so happy to have him as a member of our family! It took a little time,
but Goose and our 6 year old shepherd mix Harper are best buds! They take turns eating out of the
same food bowl (even thought they have their own) share toys and treats, and both enjoy rough play!
Goose is agreat hiking partner and loves the local dog park, and dog beach...he does a little happy
pounce when his paws hit the sand, its pretty funny! He also goes to doggie day care 2 or 3 days a
week and got an A+ on his temperament report card. He really is a good boy, the staff love him too!
Goose has also gotten really good at running along side my bike with a special leash attachment.
(He pretty much pulls me for the first 1/2 mile!!). We are working on getting used to a
skateboard too. No doubt he keeps us busy and active! He has also been around our
friends kids ranging from newborns to age 5 and is very gentle with them!
All around great pup, We love Goose!

Here is a picture of Goose at our local dog park and and "after dog park" car pic of both our pups!"

Happy Holidays,
~ Lindsay ~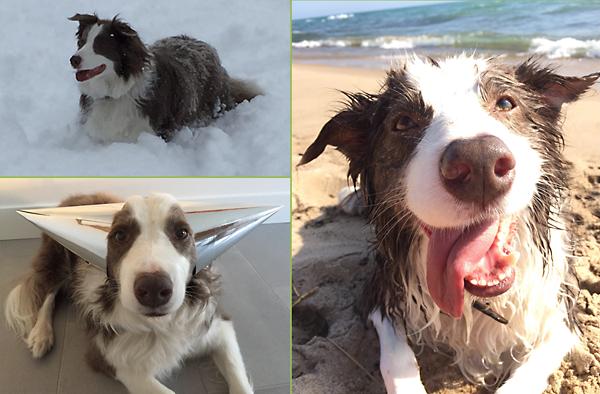 DELILAH
formerly known as Loretta

"We found out Lilah's seizures are actually from a tumor in her brain [behind her left eye].
After much research and debate, we are driving her to Colorado next week for brain surgery.

The plan is to reduce (instead of trying to remove) the tumor. 2-3 day recovery.
No radiation or chemo since dogs don't understand it's for a cause - they just feel awful.
If it works it could extend her life up to 3 years. Without it we've got about a month left.
Thankfully a clinical research will cover a good portion of the cost.

Please send positive juju her way. She loves the snow here in Utah."

~ Amanda ~



ELLA
formerly known as Estella

"Merry Christmas from Ella (on right), adopted 2 years ago."

~ Tara Fawcett ~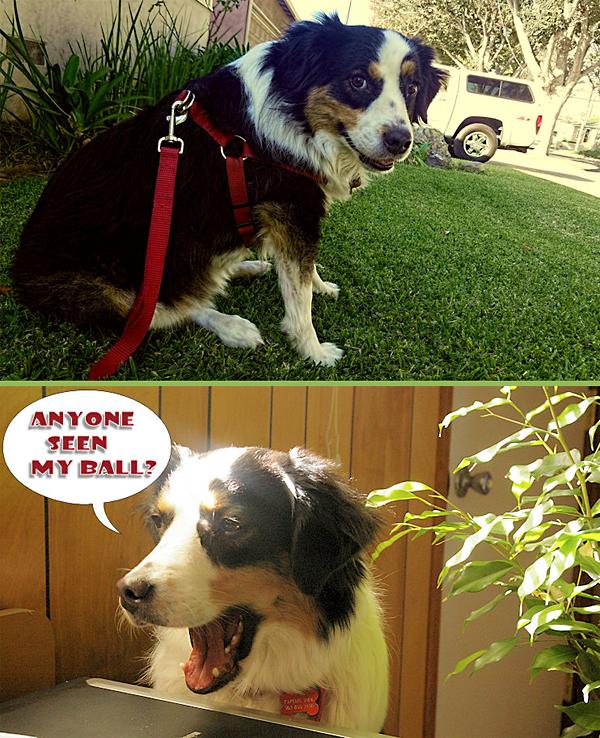 CAPTAIN JACK
formerly known as Captain Jack

"Here's a few pics of Captain Jack, if you recall I picked him up from a foster home
in Palm Desert. I know he had a very rough puppy-hood living with a divorced couple.
Bottom line is that he gets plenty of love and is getting much better in gaining
self confidence although he still is very protective of our home, car and us.

We have no regrets in adopting him as he's a great companion."

~ Lee Schelin ~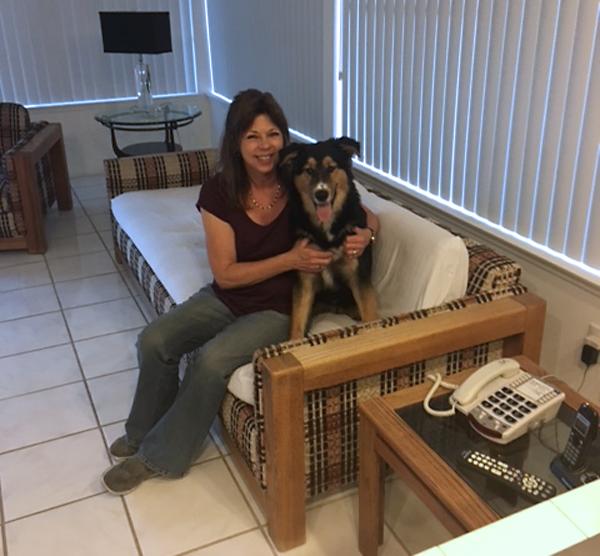 TOBY
formerly known as Chet

"Hey, Valerie, we were just talking bout ya'all. Toby is doing well. He's gained some weight
and size. Up to about 51 lbs. lol. Very energetic and a quick learner. Still a cuddle bug.
Has met a few friends in the neighborhood and has a play date with various
dogs from a training class we'll be entering soon."

~ Mike & Michelle Pope ~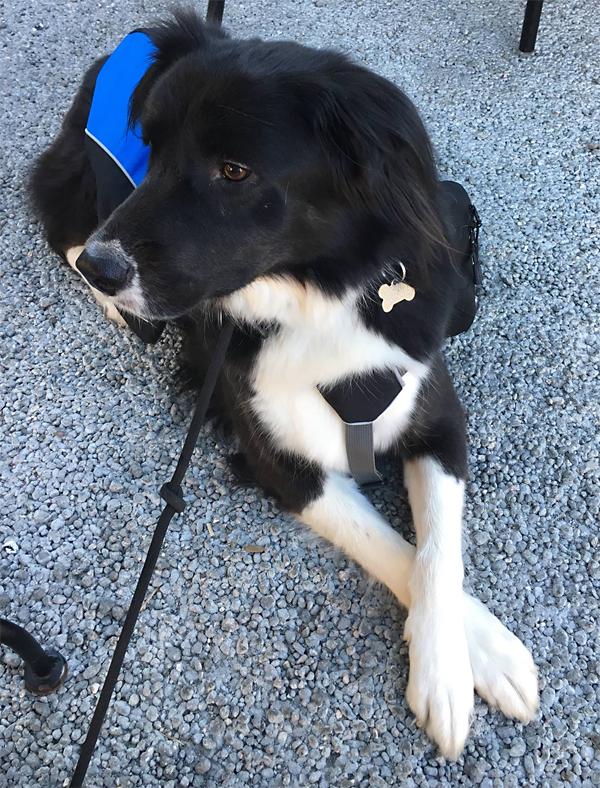 KUMA
formerly known as Ryan

"Happy holidays!

We adopted Kuma over 3 years ago (adoption name Ryan). He has been doing very well.
He used to show much more anxiety in public places but has gotten better overall.
He was happy and mellow at our recent outing to Starbucks. He got so many
compliments for being so calm and well behaved! Here are some pics! :)"

Best wishes,
~ Jin Pedregon ~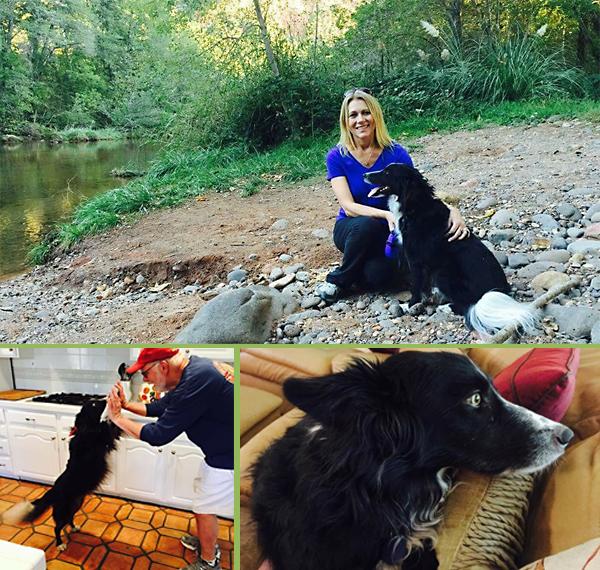 DUNCAN
formerly known as Duncan

"Duncan is doing great! We lived in San Diego for a few years where he loved all the dog beaches,
dog parks, and dog-friendly restaurants that the city has to offer. Now we live in Arizona (much
more space!) where he enjoys playing fetch and with toys in the big backyard and daily morning
hikes up our neighborhood mountain. We live close to my family now, so he gets extra love!
Plus more trips up north to Flaggstaff to visit my aunt, which is very exciting because
there are tons of squirrels in her yard, nearby canyons and creeks to explore, and
even snow! He still loves to herd anything that moves, to cuddle on the couch,
and to learn new tricks...His favorite is a "high ten" that my dad taught him.
His best friend is a jack Russell terrier named Tucker-perhaps the only type of dog
that can keep up with him! They chase each other around the yard. He is my world and has
truly become part of my family! I'm so grateful to you and all of the volunteers who helped him.
Thank you! Happy collie days!!!"

Love,
~ Caroline & Duncan ~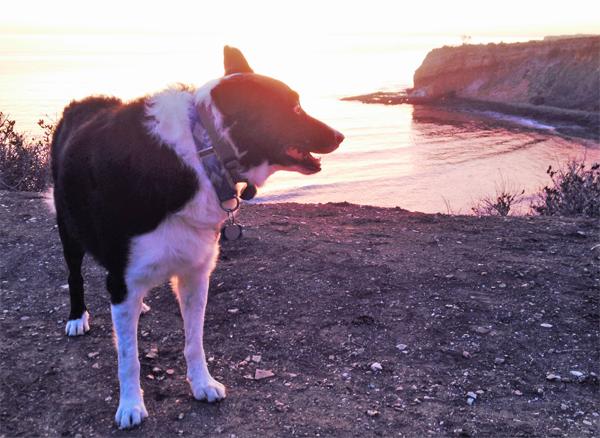 SLIM
formerly known as Slim

"Here's Slim at one of our favorite hiking spots, between Portugese Bend Cove and Abalone Cove.
He's doing well and, as you can see, very much continuing to enjoy the outdoors! We love
sunset hiking. Happy Holidays and best wishes to all at Border Collies in Need."

Take care,
~ Todd ~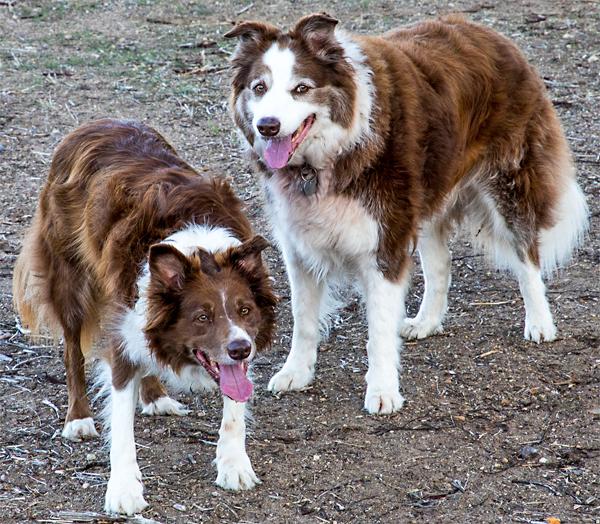 TREY
formerly known as Trey

"Here are a couple of pictures of Trey (on right). We adopted Trey on Labor Day 2008 so he is
about 10 or 11 years old. He is doing great, healthy with a magnificent coat and that tail is a
dog in its self. The smaller one is his sister Grace. They are doing their favorite thing;
Grace is chasing the Frisbee and Trey is herding Grace. Trey just loves his life out
here in the wilds of Bonita. He gets to walk, chase his sister, play in the
sprinklers and mostly have a forever home. No one enjoys life more than Trey.

Thanks for all you do for the dogs. Our life is so much better with Trey in it."

~ Michael & Cindy ~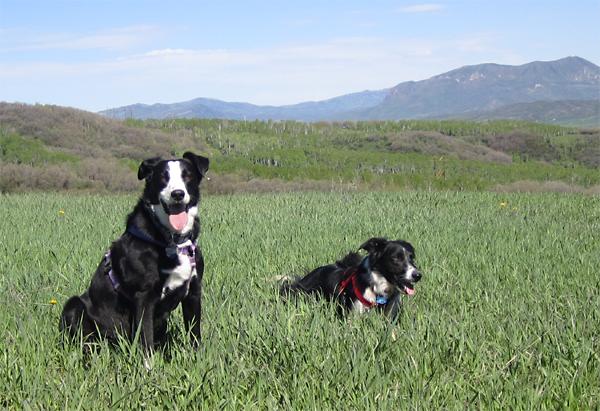 BUBBLES & BARKLY
formerly known as Bubbles & Barkley

"Bubbles and Barkly are keeping up their well-seasoned traveler credentials,
and when not traveling, regular visits to the dog park and coffee shop round
out their weekends. Here they are in Steamboat Springs, Colorado."

Happy Holidays!
~ Tonya & Tracy ~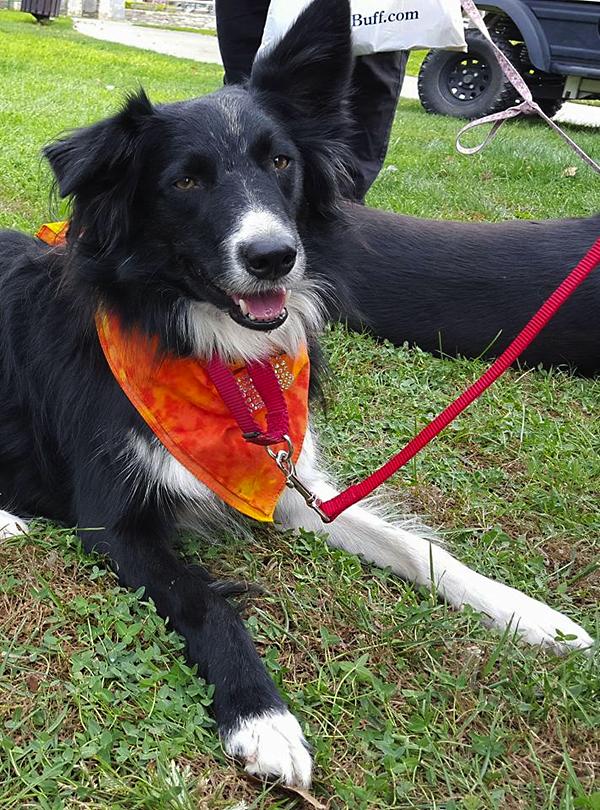 SAMMIE
formerly known as Sammie

"I know you will remember Sammie (we did not change her name)! I adopted her at the No Kill
LA event on May 3, 2014, she was being fostered by Roberta Brown. She was being mistaken for Sophie.

I have to say, this little girl was a tough one as far as trusting was concerned. She bonded with me
immediately -- but not 100% -- and I know that because our bond now is AMAZING!!! She continues to surprise
me with opening up and trusting more and more all the time. She is my little soulmate and I could not have asked
for a better dog. Roberta knew we were the right match and she was dead on with her intuition.

Sammie absolutely adores my hubby and daughter. It took a little bit longer for her to go freely
to my daughter but I realized it was because my daughter's dog, Penny Lane, was giving
Sammie the business -- not wanting to share her person.

But we are just one big happy family now and Sammie and Penny Lane are the best of friends
-- along with Sarah and Tanner too. 4 dogs can be a lot, but all of us say that Sammie is
the sweetest, most well-behaved, and smartest of all of them.

I remember either you or Roberta telling me to allow Sammie to sleep with me.
Well it took her 2 years but now she happily steals my covers while laying
right up against me all night long. Nothing better in the world.

Sammie loves adventures, hiking, swimming, camping in the desert and just being
silly around the house. She is funny, happy and loves her treats. She is very easy
to train, however she still doesn't like to herd or do agility. That's ok, she is so
much more to our family than any of those things.

I don't know her story before me, but I do have the picture you gave me of when she was in the
pound. Scared and wounded (emotionally and physically). You will be happy to know that she has
known nothing but love since the day we brought her home. She is spoiled, adored and has never
heard a harsh word directed at her. Her confidence grows daily and we love her so much. I used
to bribe her for kisses, she now gives them freely and often -- I don't even need to ask anymore.

Thank you for choosing me to be her person. I am forever grateful. I've attached some pictures.
Several are just for your viewing pleasure ;-). "

~ Sherry W. ~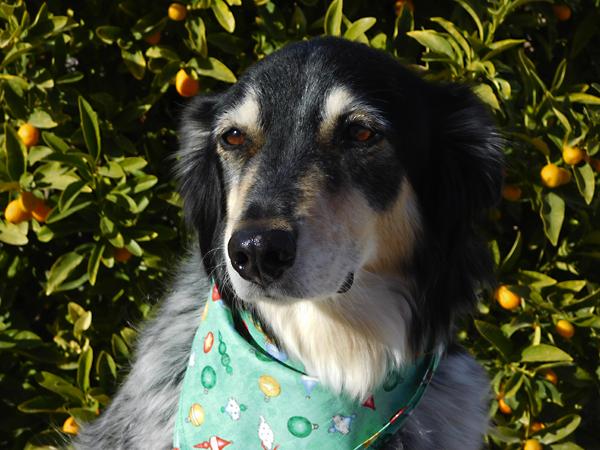 LUCY
formerly known as Skye

"Lucy is a BC/Aussie mix that we adopted from BCIN in 2007 when she was 10 months old.
She continues to be a loving companion to all in our family. Many thanks to Suzanne and to all
of the dedicated BCIN volunteers for the great work you do. Happy Holidays and the best in 2017."

~ Karen Wakimoto ~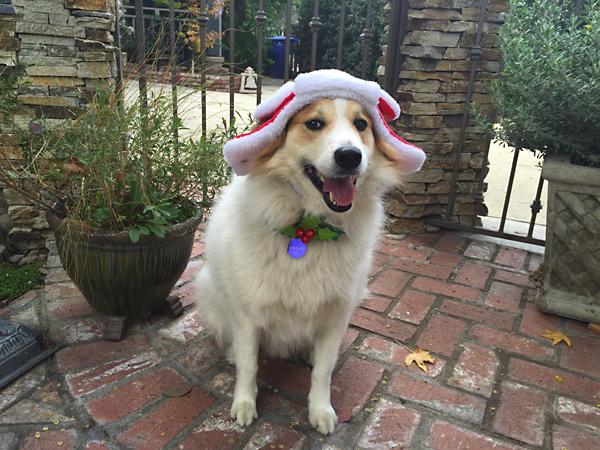 TWEAK
formerly known as Lad

"Here are some festive pics of Tweak. I tried sending them yesterday through my phone
but I'm not sure if you got them. Happy holidays to you and everyone at BCIN!"

~ Ashley ~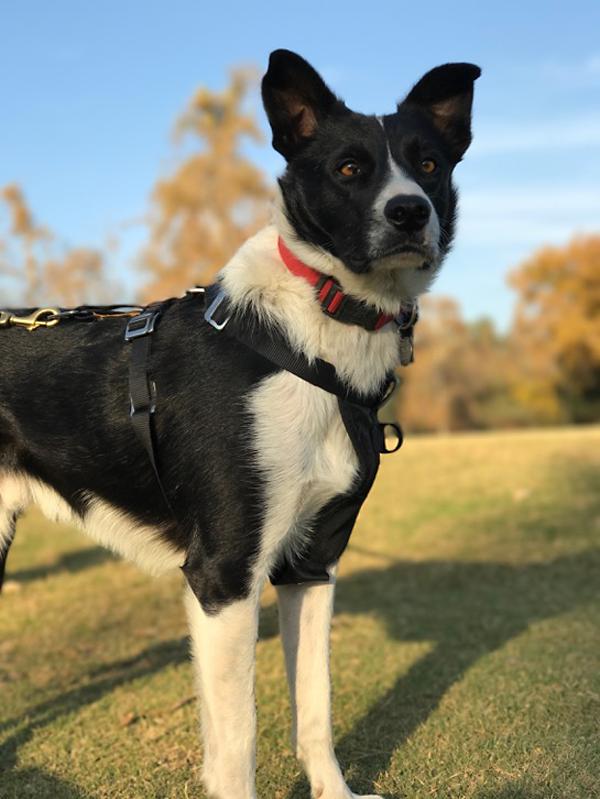 BODHI
formerly known as Tex

"I am writing and sending pics for Bodhi, formerly known as Tex, and before that Jax.
We named him Bodhi, short for Bodhisattva, as he has that "third eye" spot on his head.

He has been a wonderful dog, everything his bio promised and more! We really wanted
a dog who got along with kids, other dogs and cats, as we have new grandbabies,
regular dog visitors, and 3 cats. As you will see from the pictures, he is
getting along fine with everyone. He loves hanging out with his dog pals
more than anything. He has one of the sweetest temperaments I have
encountered, and he is so gentle, especially given his young age.

Thank you for the great work you do, and for bringing Bodhi into our lives."

Happy Holidays!
~ Joanna Beaulieu ~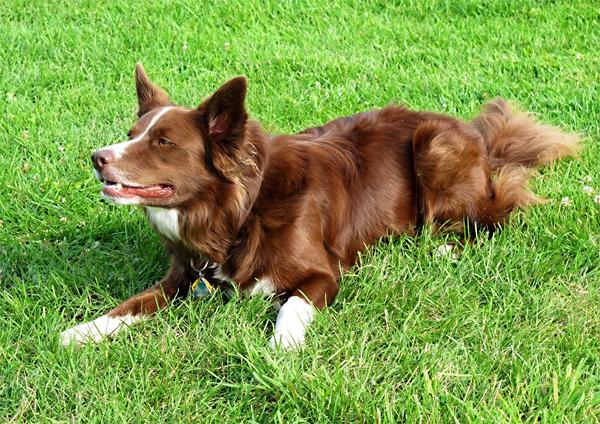 COOPER
formerly known as Cola

"This wonderful friend is named Cooper (formerly known as Cola). Cooper came into my family's life
in December of 2011. He had originally been found running along the Pacific Coast Highway, no tags, or chip.
Animal control recovered him and he was put up for adoption. A young family with small children adopted him.
They were not prepared for a Border Collie like Cooper, and subsequently relinquished him to Border Collies In
Need. Cooper is high energy!. He loves to travel, explore, swim, etc.. He is all about adventure. He loves
being with his family! I am so very blessed to have Cooper in my life. Thank you Suzanne and all the volunteers
at Border Collies In Need. You are all special people! Have a very Merry Christmas and Happy New Year!"

~ Lori Crickett ~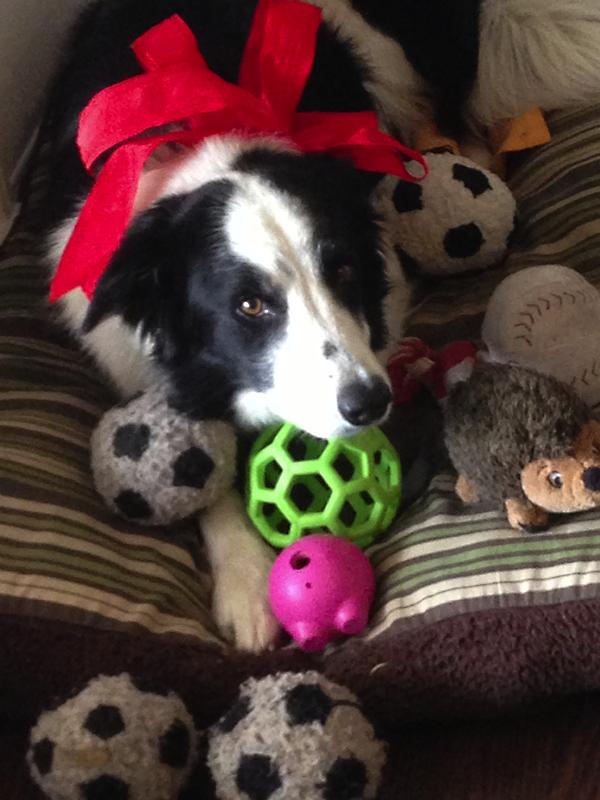 REILLY
formerly known as Scout

"You may remember Reilly, called Scout when we adopted him in 2007. We
were his third owner because he kept going out of windows and over fences at
previous homes. He started the same way with us, getting over and under our
backyard fence twice in the first 24 hours and out a nearly closed car door for
a one-hour escape in the rain on a road trip. At some point, he decided we were
worth adopting and he has become our best dog ever, from woo-wooing good
morning to playing ball with our twin three year old granddaughters.

Keep up the good work. We may be looking for a Reilly companion soon."

~ Diane and Peter James ~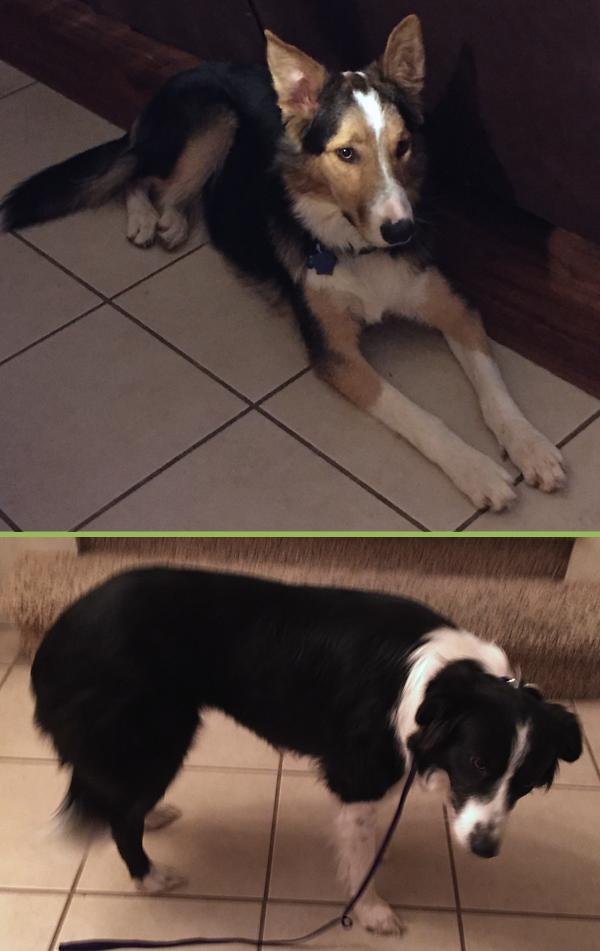 FENN & ANNA
formerly known as Johnny and Jayna

"We are still getting to know Fenn (top) and Anna. Getting Fenn one week then Anna the next has been
a lot of getting things to a normal way. The cats are still working on getting use to 2 new dogs
in the house. Fenn is like a bee in a boxcar, high energy, a barker, a whiner, he does have that
separation anxiety. Anna is quiet and demur, she hardly ever barks, now is getting so excited and
wiggly when dinnertime comes around, she has gotten a filled out body and big hiney, she gets
things off of the counter and out of kitchen sink. We now watch where we leave things in the
kitchen when we walk out of there. In mid-Sept. Brian had a knee replacement. While I was
at the hospital, the night of his surgery, I came home to a family room that was like a
cyclone hit it, I did not know who to blame, I blamed him, but I really don't know.
One of them, I think it was him, chewed a nice whole on the inside arm of our couch.
We love them, he loves barking at the fish in our pond and hunting mice which he doesn't
ever get. She always is putting her head down and giving us her right paw, likes to be out of the
way. Thanks again for your help. We are so glad we have adopted these two different personality pups."

~ Norma & Brian Bailey ~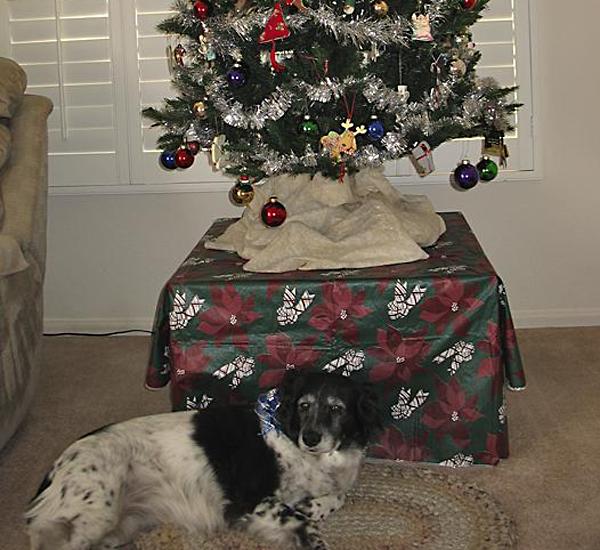 SKYE
formerly known as Hannah

"Skye (aka Hannah) celebrated her 10th birthday on December 1st. That is the day we selected for her
birthday since there was not one on record. She continues to enjoy good health and brings much joy to Dave
and I. Whenever we mention going for a walk, her tail wags vigorously and she loves her outings. Aside from
that and chasing rabbits in our back yard, she is mostly a couch potato (very unusual Border Collie) She shows
no interest in balls or toys or other activities and that is why her first adopter brought her back to you after
a week since they wanted "a more active dog" She fits in nicely with our lifestyle at this point and we love
her dearly. Thank you so much for allowing her to join our family and for all the good work you do."

Merry Christmas to you and all the volunteers! ~ Dave and Terry Duncan ~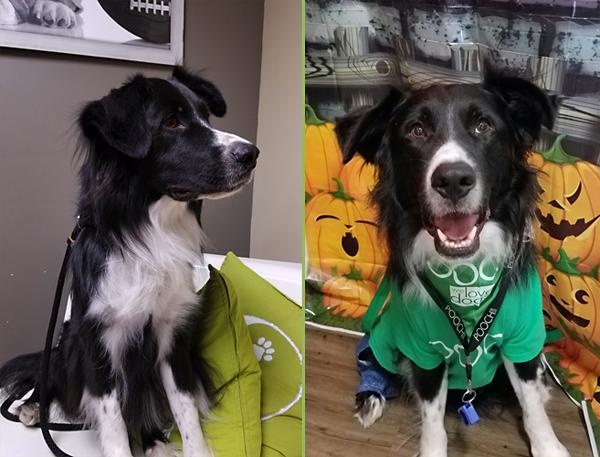 JACK
formerly known as Wayne

"It's Jack's mom, Lisa. Jack AKA Wayne came into my life in the beginning of March 2016 and I have
never been the same. He is the love of my life. There is not a day that goes by that he doesn't astound
me or has me doubled over in laughter. His goofiness and sense of humor are endearing. His love for me
breaks my heart. We were meant to be. He lives a busy life. He comes to work with me at the hotel. He
has dog friends and our extended Pooch family adores him. The running joke is, he works almost as
much as I do. I love him to the moon and back. I want to thank you for bringing Jack
into my life. He has made all the difference.

I take pics of him all the time. I can't decide which are my favorite ones. Here are just a few.
Although, I know you can't devote a whole greeting card composed of Jack's pics,
I trust you will be able to filter through my guy's pics. "

Happy Holidays!!!
~ Jack's mom ~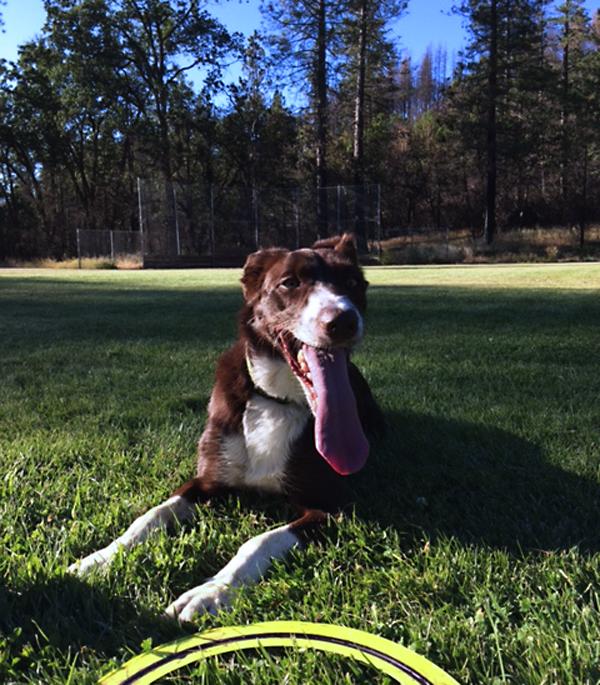 RODDY
formerly known as Rory

"Happy Holidays!"

~ Roddy, James, Chris, Harper and Saskia ~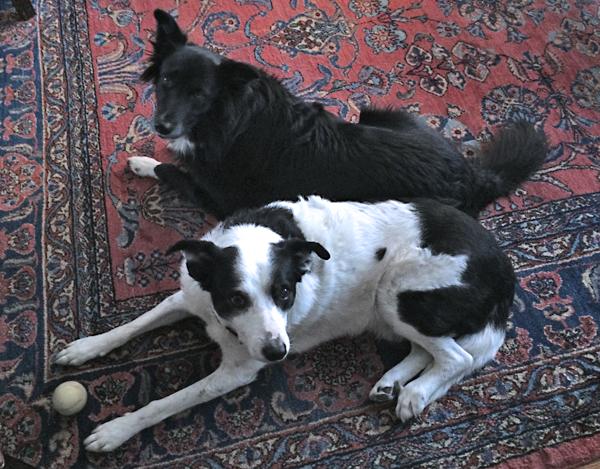 ZORRO & ELLIE
formerly known as Zorro and Shelby

"Here are BCIN dogs Zorro (on the bottom of the photo) and Ellie (who was called Shelby while with BCIN).
Zorro & Ellie are still having lots of backyard fun chasing lizards and directing planes in to land at the airport.
They have been visiting Doggie Day Care 5 days a week lately to avoid the scary hammering and sawing from the
kitchen renovations now going on. But when they're there, they get to play with their fellow BCIN graduate Dart!

Our thanks to Suzanne for fostering Ellie, and to Greg for fostering Zorro."

~ Bob & Roxanne, Zorro & Ellie ~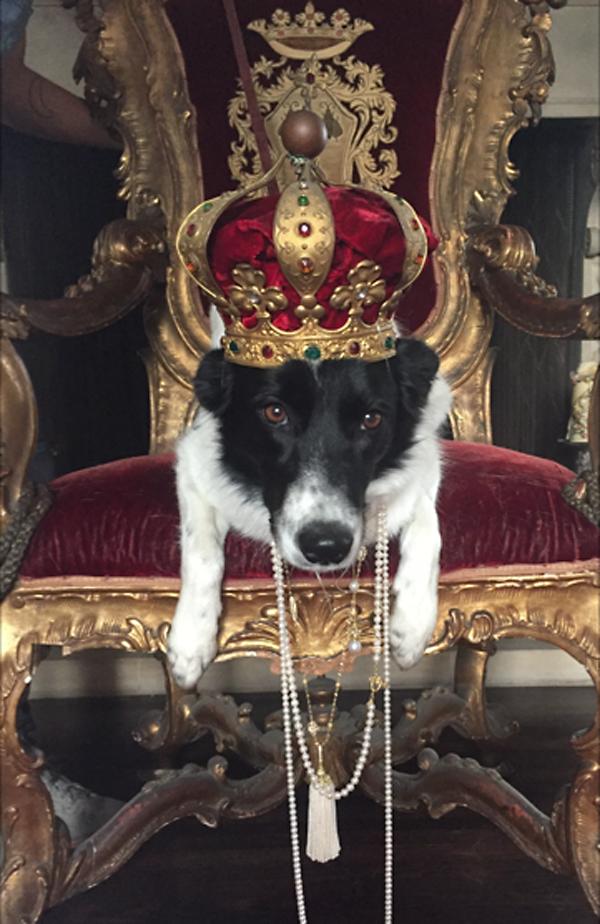 SWEETIE
formerly known as Sweetie

"Merry Christmas from Sweetie and Cynthia Bach"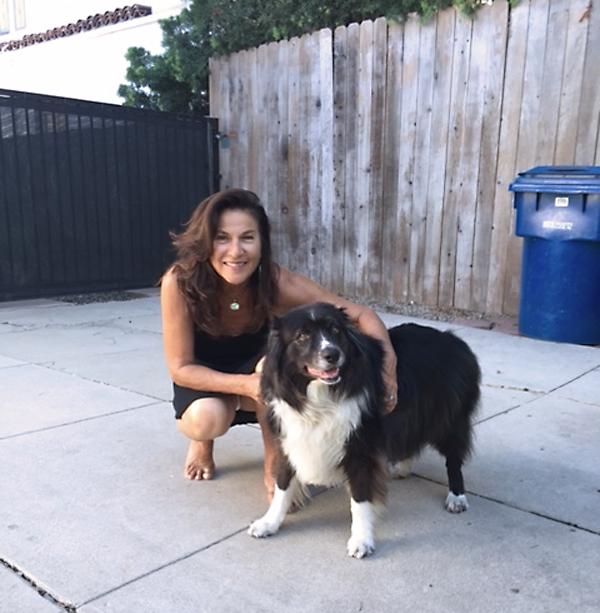 SHAWNEE
formerly known as Shawnee

" Happy Christmas from both of us:)

Shawnee celebrated her 7th birthday on September 22nd. She has grown into
an incredible loving & social dog who is nicknamed the princess of Larchmont
(our local neighborhood ) can't thank you enough for bringing her to me."

Love,
~ Jane ~



BOWIE
formerly known as Mikey

" We are submitting photos of our Border Collie rescue formerly known as Mikey. His new name is Bowie-
after the great David Bowie. We brought him to our home on February 1, 2016. He has changed our lives
for the better and we love him more every single day. He is an active fellow which keeps us both active
as well. Everyone who sees him on The Strand or in the park, loves him and wants to pet him and always asks
what kind of dog he is. We want to thank you again for introducing him into our lives!!
He is a good and happy boy with lots of personality!!!"

Thank you and Happy Holidays,
~ Autumn & Mark Raia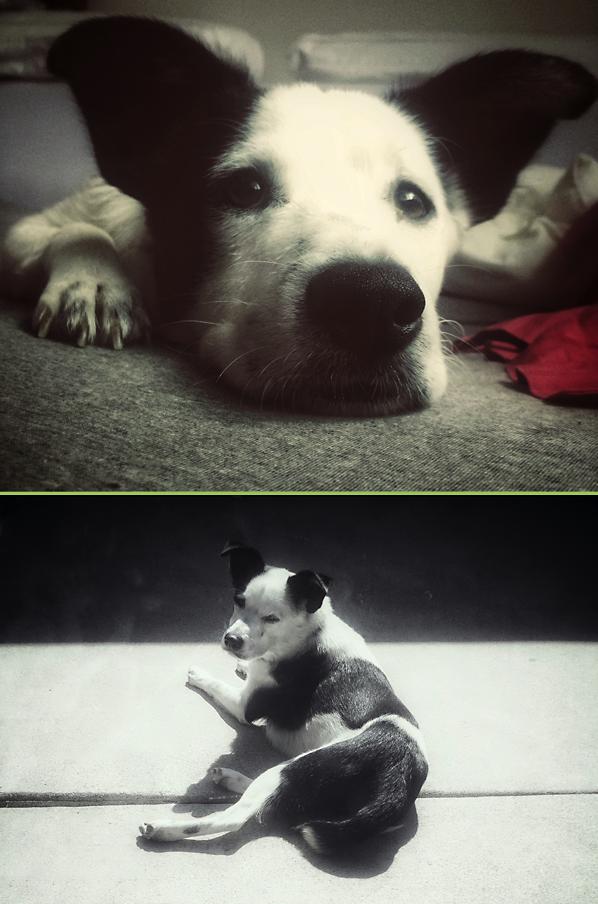 UDO
formerly known as Squirt

" I'm getting these photos to you just in the nick of time!
Thank you so much for all you do - we are very happy with
little Udo, who is an essential part of our family now!"

Happy holidays!
~ Anja, Julian, Florian and Udo ~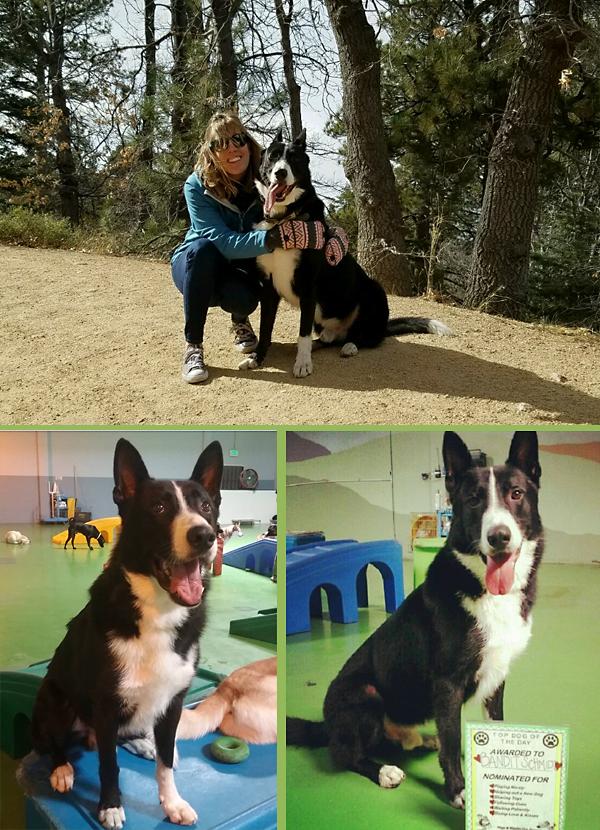 BANDIT
formerly known as Wolfie

" I have attached three pictures of Bandit formerly known as Wolfie. We adopted him at the June 2013 rescue
event in Irvine. We absolutely love our handsome, sweet, happy boy. He loves dogs and people so we take
him to doggy daycare every Wednesday since both dog parks close to us are closed that day. He loves
wrestling and chasing other dogs. The staff at Wags & Wiggles also love him very much because he
has such a great demeanor and he enjoys his time at daycare (picture attached(. He even won
top dog of the day award for playing nicely and helping the new dogs (picture attached).
We are a very actively family and take him to the doggy beach and to the mountains for
hiking (picture attached). We usually plan family vacations that he can join because
he is such a joy to have around. Thank you so much for rescuing this amazing
dog and we couldn't be happier that you trusted us to bring him home
and give him the best life we possibly can."

Happy Holidays,
~ Kameron ~



SCARLETT
formerly known as Scarlett

" I don't expect you to remember us but my wife and I got our dog Scarlett from you.
Seven years ago, when she was 1 we picked her up on Christmas Eve. Since then she has been
a very important part of our family and we love her very much. We really appreciate what you
and Border Collies in Need have done for the dogs and the people the dogs have gone to.
I'm very thankful that you and others like you exist and selflessly do what you do.

My wife and I usually go on a cruise for vacation but we were feeling bad about leaving Scarlett
at home with a dog sitter all the time while we went out on vacation so this year we planned a
dog friendly vacation. We (the 3 of us) did a road trip to Minnesota and rented a dog friendly
house boat on the upper Mississippi river and cruised the river for a week in our own houseboat.

I am sending a few pictures that I hope you can use. Unfortunately, I don't have the software
to reduce the size of the pictures so I am going to send a few emails with one or two
pictures each. I hope you can use one of them.

Thanks again for all that you do and I hope you have a happy holiday."

Sincerely
~ Steve and Darcy Potvin ~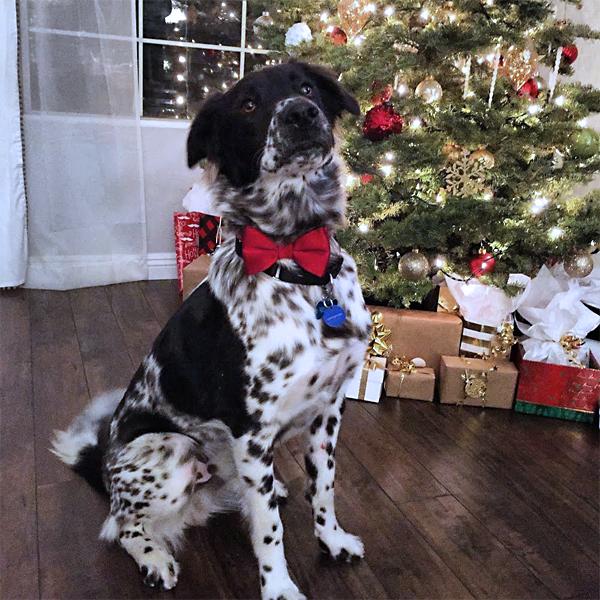 JAX
formerly known as Jax

" Merry Christmas!"

~ Nicole, Eric and Jax ~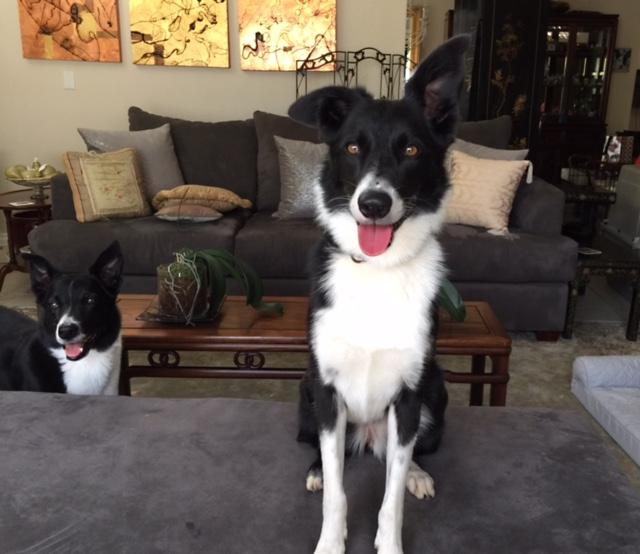 STING
formerly known as Miss Belle

" Wishing you all the best from Sting and Vicki."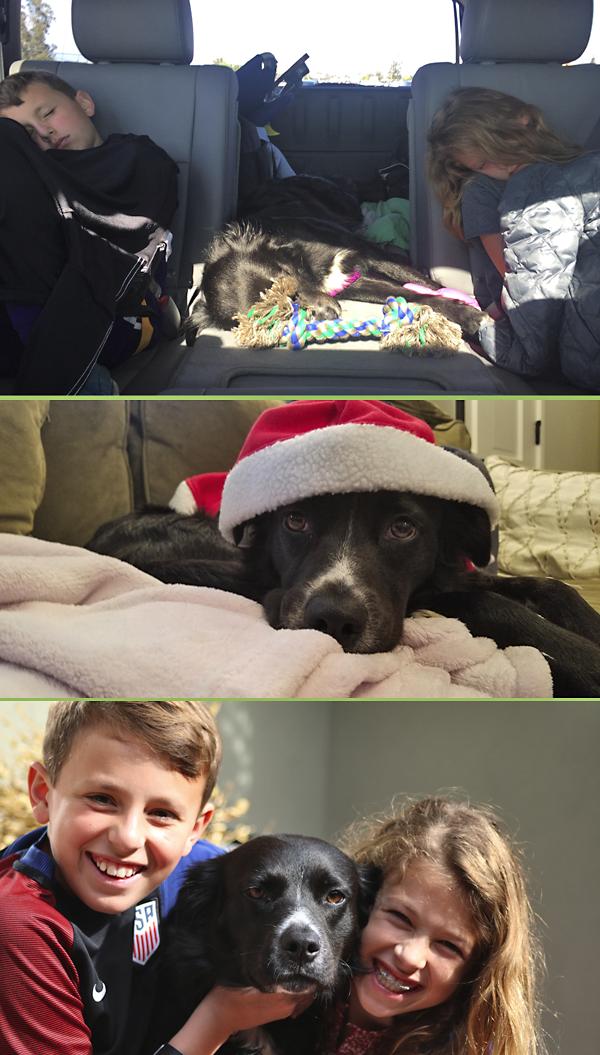 GIDGET
formerly known as Delilah

" Dec 2016, First ride home, Gidget & Teddy, Gidget the Oregon Ducks, Gidget's first ride back
after a soccer tournament, Heading to soccer practice wTeddy, Kids named her Gidget after
reading ....she has to be reminded not to surf the counter tops!!"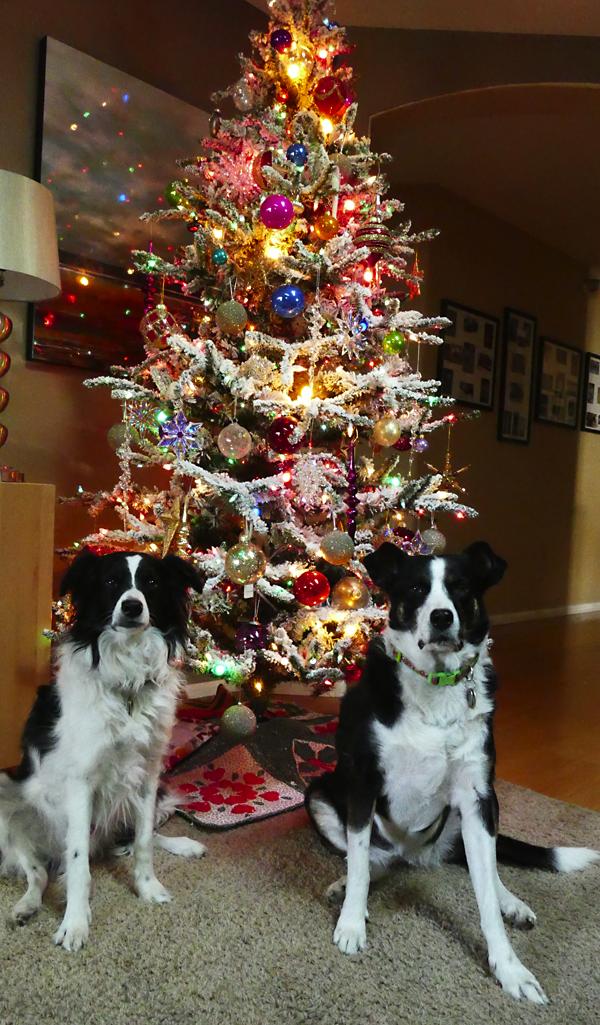 MICKEY
formerly known as Mickey

" We adopted Mickey (on the left), the same as his rescue name, 6 years ago from BCIN.
We rescued Paige from a shelter 6 years ago, as well. They are the best dogs
and we are so lucky to have them in our family! Merry Christmas!"

~ Vickie ~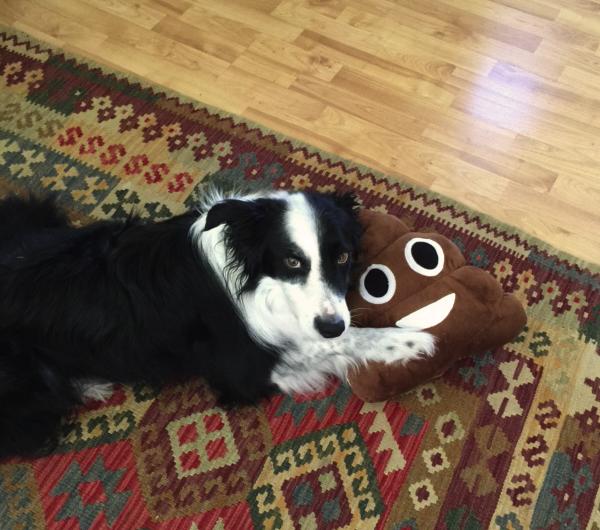 WIZARD
formerly known as Wizard

" Merry Christmas from Wizard Davis."

~ Ladawn ~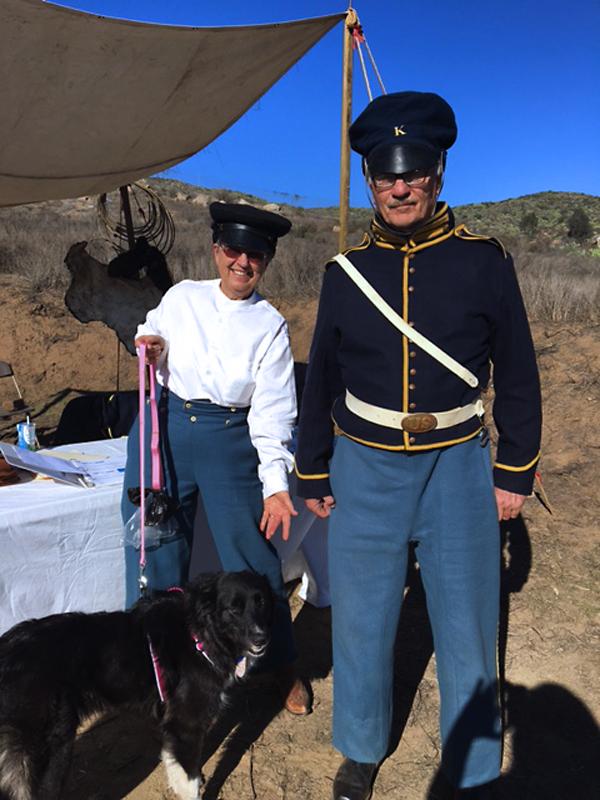 BEAUTY
formerly known as Sugarplum

" Beauty at the San Pasquale Battlefield. She was good but terrified by the horses.
May have had a bad experience. All for now."

~ Betsy n Stan ~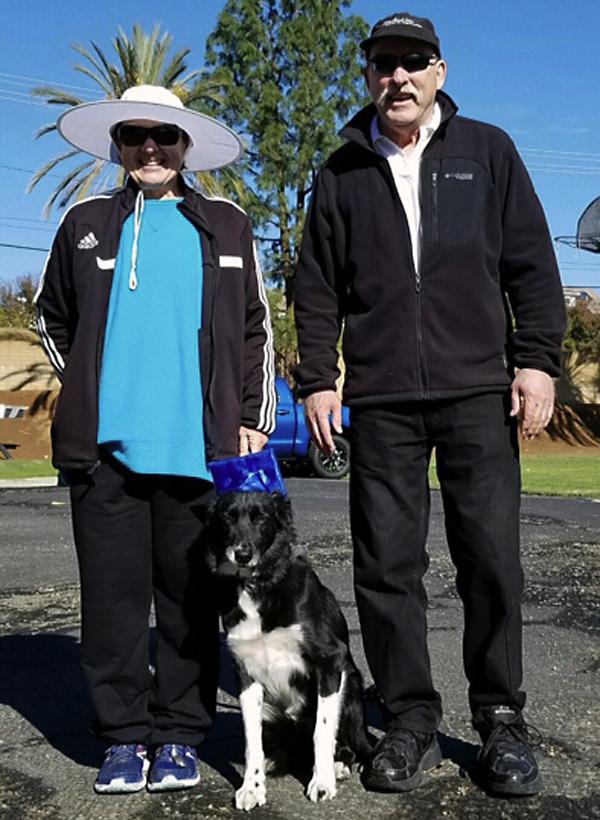 TOMMIE
formerly known as Todd

" Hi Robin and Chris,

It's me, Tommie. I passed my basic obedience exam today and graduated! The trainers even had
a special hat for us to wear. I really learned a lot and I'm still shy, but more confident.
I even took a treat from Biscuit's grumpy grandfather today. I had never met him,
but Biscuit who's still a 8 month old puppy told me not to worry that his
grandfather must really like me to share his treats! I'm moving on to
the Intermediate class in mid January.

I miss you and want to wish you the best and brightest Merry Christmas ever."

Love and kicks,
Tommie the graduate
(my parents are Charlie and Kay Bryant)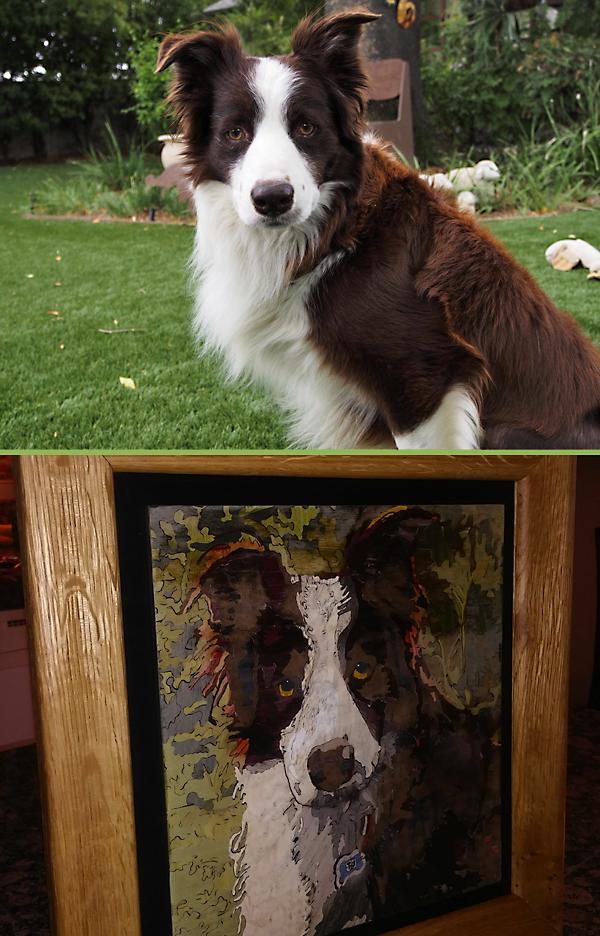 TJ
formerly known as TJ

" I'd like to share a marquetry (wood veneers) picture I created of my beautiful dog TJ.
The marquetry becomes like a puzzle with 27 different veneers and totaling
507 pieces, then glued up, sanded, finished, and framed, 300 hours later.
Attached is the adoption picture of TJ, and the marquetry picture.

Wishing you a Happy Holidays. Thanks for all you do."

Best Regards,
~ Jeff Grossman ~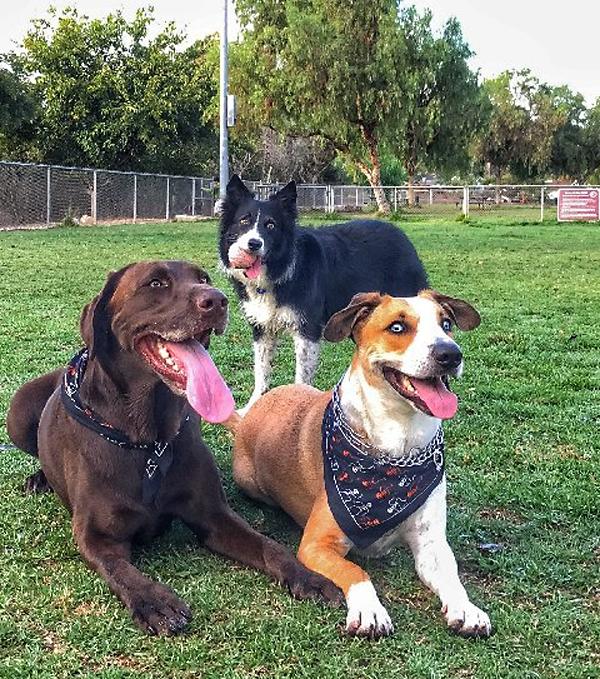 HONEY
formerly known as Kiki

" so sorry we missed your deadline for pix - this pic was taken by a friend of ours at the dog park, and we couldn't get it until today. You let us rescue this BC on 02/14/2013; she came to you with the name "Vela", and she was
renamed "Kiki", and once we got her home, we named her "Honey" because my brothers call me
Kiki. My husband and I drove up from San Diego, and took her home with us that same day.

She is such a wonderful dog - we love her to bits. It took a bit of time to get her to walk
on a leash without trying to attack every car/truck/motorcycle/skateboard that went by, but
we all survived. Also, I don't know if you remember, but she did NOT want to get into our
car! I had to pick her up and put her and myself in the back seat (I'm guessing she'd
never ridden in a car before because she LOVES it now!). We rode all the way back
to SD with her sleeping with her head in my lap.

She's such a silly, loving, loyal dog and we take her almost everywhere we go.
And of course, we configure our lives around her, and that doesn't bother us a bit!
I think I told you that her shoulder was injured, and that we did get surgery on it as
soon as we found that out. We guess that maybe that's why she'd been surrendered - the first
owners couldn't or wouldn't spend so much to repair her problem (osteochondrosis in her shoulder).
The Vet said it was a good thing you'd have her fixed, because that condition is hereditary.

At any rate, I walk her a fast mile every morning, then we go to the dog park to throw her pink
tennis ball (in her mouth) for 30 - 45 minutes. Then we come home, she eats, and crawls
under our bed to sleep for about 3 hours. Then she's back up and ready to roll.
Her Pop throws her ball in the house for an hour or two, and in the late
afternoon, we walk to Lake Poway, just for a change of pace.

We are very grateful to you for letting us bring her home. We tell people
that her official name is "Honey The Wonder Dog", but they can call her "Honey". In the
attached pic, she's at the dog park with two of her friends, Bella the chocolate lab and Beau
the mysterious mix. All 3 of them do not want to play with other dogs - the ball is ALL.

Best wishes, and thank you so much for protecting this breed."

~ Kitty, Reiny & Honey Pinneker ~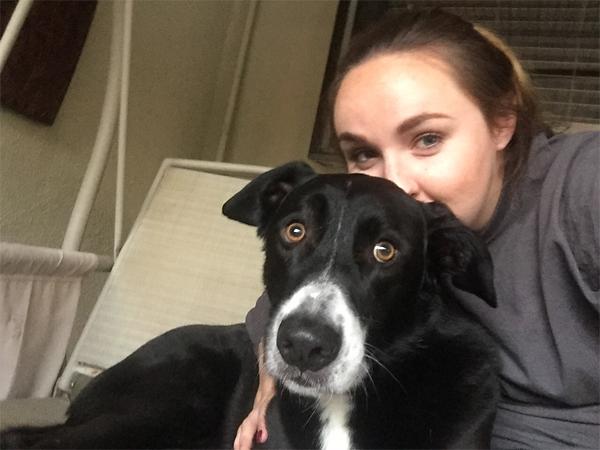 STITCH
formerly known as Stitch

"Happy Holidays from Stitch and me."

~ Robyn ~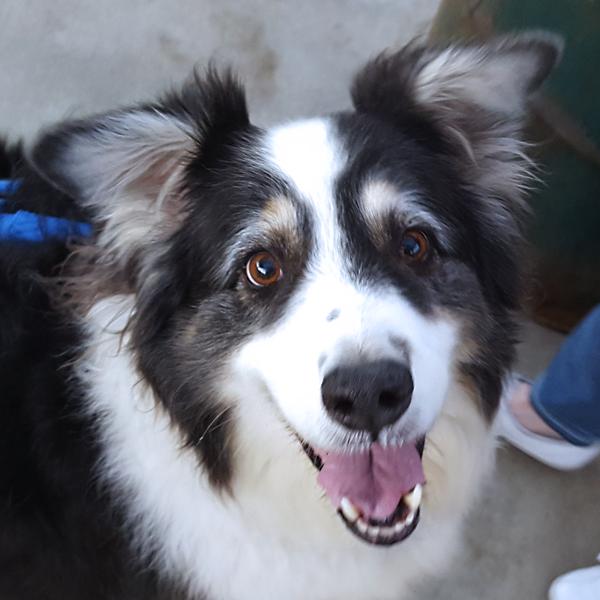 BORIS
formerly known as Nitro

"I thought you still might like to see a photo of Boris, who seems to thoroughly enjoy living in the
Pt. Fermin area of San Pedro. He has been on wonderful addition to our family."

Best,
~ Robert & Joanne ~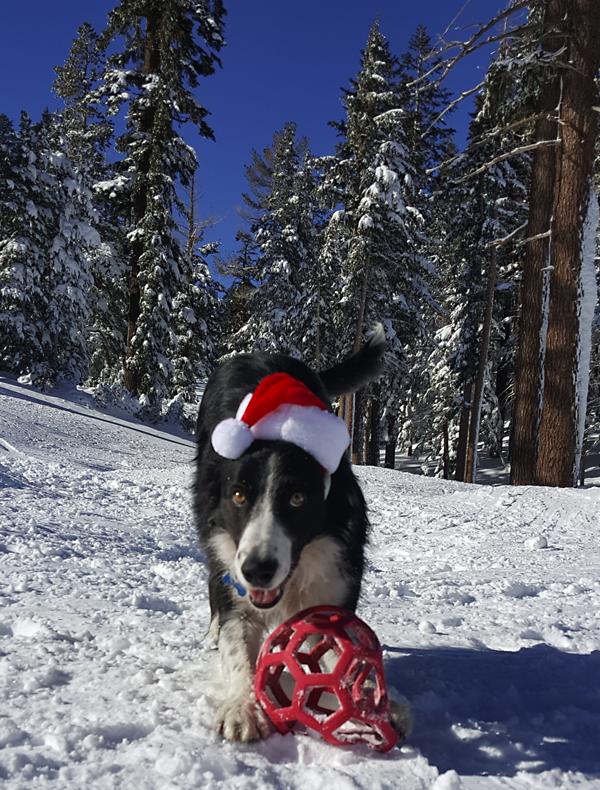 JASPER
formerly known as Jasper

"Jasper at Mammoth.

Hope you have a Merry Christmas & Happy new Year!"

~ Tim Haines ~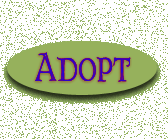 Copyright © 2016 Border Collies In Need, Inc. All Rights Reserved.

Contact Webmaster